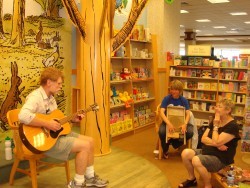 Two Rivers Story Spinners member Mike Zahn and graduate student Marti Maxon perform at last year's fundraiser at Barnes and Noble.
Perhaps the most unfortunate victims of those who are in the Polk County Jail often are those who had nothing to do with the crimes inmates committed.
Those victims are the children –­ averaging 100 per month — who come to the jail to visit parents, siblings and others who find themselves behind bars.
To make those visits more positive and give children something to do during visits, Forever Books for Kids aims to collect more than 5,000 books — enough to provide a book for every child who visits the jail in a year.
To obtain more books for the project, a special event will be held on Saturday, March 6, at Barnes and Noble, 4550 University Ave. in Clive. Members of the Two Rivers Story Spinners from all over the state will volunteer their time between 11 a.m. and 2 p.m. that day to tell stories in the children's area of the store.
Barnes and Noble will make a donation to Forever Books for each purchase made all day on Saturday, March 6, provided the purchaser mentions Forever Books or the Ashcraft Project.
Forever Books is an outgrowth of the Ashcraft Project, named after the late Dave Ashcraft, a founding member of the Two Rivers Story Spinners. He worked tirelessly to promote literacy among inmates at the Polk County Jail and to supply books for children to read when visiting the jail.
Forever Books was established more than a year ago by graduate students in the Drake University Adult Learning and Organizational Development program in the School of Education. Students in the Leadership in Organizations class, taught by Celeste Bremer, adjunct professor of education, launched the program with the help of the staff at the Polk County Jail.
Now, a year later, another group of graduate students in Bremer's class, Leading in Organizations, is helping Forever Books reach the goal of 5,000 books set a year ago.
Staff members at the jail have established a play space for the kids, and volunteers have donated some books to be used at the jail. Teams in Bremer's class are working on plans for long-term collection of books and creating a reading area that has been developed in the jail with the help of art students from Scavo Alternative High School. The dedication of the reading area will be held later this month.
Donations of books (new or gently used) appropriate for ages 2-­10 are welcome. Cash donations also are needed and may be directed to Two Rivers Storytellers, a 501(c)(3) corp., care of Maureen Korte, 7624 Hickory Lane, Urbandale, Iowa 50322. For more information, contact Korte at moekorte@cs.com.