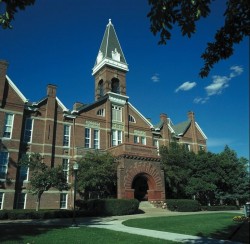 Six Drake University alumni will be recognized for their career accomplishments and loyalty to the university at an effervescent evening reception on Thursday, April 22.
The event, which is free and open to Drake alumni and friends, will begin with a reception, champagne toast and awards ceremony from 5:30-7:30 p.m. in the Cowles Library Reading Room.
For more information or to make a reservation, contact the Office of Alumni and Parent Relations at 515-271-3152.
The award winners, who were selected by Drake's National Alumni Association, are listed below:

Jerry Allen, a 1969 graduate, Alumni Loyalty Award
Herb Baum, a 1958 graduate, Distinguished Service Award
Scott Carlson, a 1993 graduate, Young Alumni Loyalty Award
Richard Harrington, a 1994 graduate, Young Alumni Achievement Award
Cyndi Lesher, a 1970 graduate, Alumni Achievement Award
Dr. Timothy J. Ley, a 1974 graduate, Alumni Achievement Award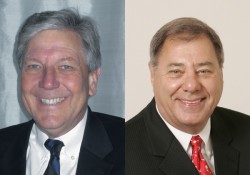 Jerry Allen and Herb Baum
Allen of Wayzata, Minn., recently retired from ARI, where he worked for
20 years as regional sales manager. He serves on the President's Circle
Board and has served on the National Alumni Association Board the Drake
Parents Board.
He and his wife and alumna, Lori, have planned and hosted events
for alumni, donors and prospective students in the Twin Cities area.
They also created the Gerald K. and Lori A. Allen Scholarship Fund at
Drake.
Baum of Jupiter, Fla., received a bachelor's degree in business and
is retired chairman, president and CEO of Dial Corp. Among his honors
is Drake's 1989 Alumni Achievement Award. In 1999, he was named one of
Advertising Age's 50 Most Powerful People in Marketing.
Baum served as the Executive in Residence at Drake in 2005 when he
met with students and lectured about his career, integrity and
leadership.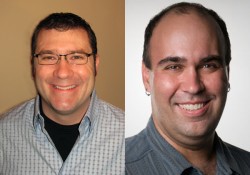 Scott Carlson and Richard Harrington
Carlson of Des Moines, earned a bachelor's degree in marketing. He
is owner of West End Lounge and managing partner of Court Avenue
Restaurant and Brewing Co. Carlson has been involved with the Downtown
Community Alliance and the Court Avenue Association, among others.
He was named in the Des Moines Business Record's "40 Under 40" list
in 2007. Carlson frequently lectures at Drake, among other local
colleges.
Harrington of Washington, DC, received a bachelor's degree in
broadcast journalism. He is CEO of RHED Pixel, a visual communications
company. As a respected trainer and author, he has produced more than
25 industry books on digital media and photography, including official
texts for Apple and Adobe.
He also is founder of the DC Podcaster Alliance and served as
technical chair and program manager for conferences produced for the
National Association of Broadcasters.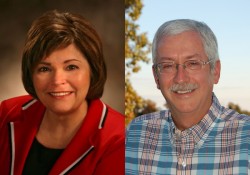 Cyndi Lesher and Timothy Ley
Lesher, of New Brighton, Minn., received a bachelor's degree in
sociology. She is retired president and CEO of Northern States Power
Co. Lesher also holds a master's degree in rehabilitation and
psychology from St. Cloud State University.
She is involved with many civic groups and boards, and served on
the Minnesota Chamber of Commerce. In 2000, CityBusiness magazine named
her one of the Twin Cities' most innovative women.
Ley who grew up in Lakota, Iowa, received a bachelor's degree in
biology. He also holds an M.D. from Washington University in St. Louis,
where he serves as the Apple chair in oncology and professor of
medicine and genetics for the Washington University School of Medicine.
Ley, who has authored more than 115 scientific papers, is renowned
for his groundbreaking research in cancer genomics. He has been elected
to the Institute of Medicine of the National Academy of Sciences, one
of the highest honors that American physician-scientists can achieve.