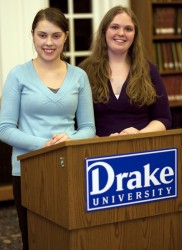 Lauren Burdt and Sarah Sutter
MEDIA CONTACT: Tory Olson, 515-271-1834, tory.olson@drake.edu
For Ankeny High School juniors Lauren Burdt and Sarah Sutter, their recent victory at Drake University's Citizens Arise! Student Debate is more than a win — it's about encouraging America's youth to be responsible citizens.
"Teens should get involved in the political process and do whatever they can to help their cause — volunteer and vote," Burdt said after she and Sutter took first place at Tuesday's debate.
Burdt and Sutter, who each won a prize of a three-credit hour course at Drake, were coached by Michael Miller. The Ankeny team defeated Rachael Bandstra and Kayleigh Courard-Hauri from Roosevelt High School in the final round. The other teams were:

Dowling Catholic High School — Michelle Mueller and Claire Parker
Indianola High School — Sarah Wood and Annie Reisener
Okoboji High School — Connor Ave and Dustin Peters
Waukee High School — Kaitlyn Haggerty and Jordan Meyer
Winterset High School — Bridgett Wood and Morgan Brittain
Two-student teams from each school competed in the public forum style debate in Drake's Cowles Library Reading Room. The teams argued in support of whether or not the abridging by the United States federal government of individual state powers granted by the 10th Amendment is justified.
Students were judged by a panel of Drake faculty members, who shared positive comments after the debate.
"They were articulate, prepared and they did a fine job for young people," said Lisa Penland, professor of law. "This was my first time judging a high school debate and it was a lot of fun."
"It can be a challenge to get students engaged in public issues and current events," said Ralph Siddall, visiting instructor of rhetoric and communications. "I was extremely impressed with these students' abilities to apply the Constitution and history to our culture and society today. This is what 'engaged citizenship' is all about."
The judges, who also included Drake faculty members Dennis Goldford, Gordon Allen, Ian Bartrum, followed rules as outlined by the National Forensics League.
The debate was held in conjunction with Drake's multi-year initiative designed to engage students, teachers and the general public about the importance of global citizenship.
In its first phase, the initiative's theme is focused on historical awareness and events have included two national traveling exhibits — "John Adams Unbound" and "Abraham Lincoln: A Man for His Time, A Man for All Times" — plus several lectures by guest professors and American history experts. The second phase, during the 2010-11 academic year, will focus on discourse and dissent. Events will be announced later this year.
For more information about "Citizens Arise!" visit http://citizensarise.drake.edu/ or contact Claudia Frazer at 515-271-3776 or claudia.frazer@drake.edu.