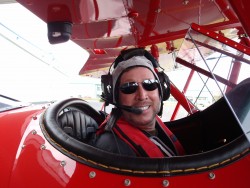 President Maxwell before take-off.
After visiting Naples, Fla., for an alumni reception, Drake President David Maxwell was literally on cloud nine.
Drake Board of Trustees member Kermit S. Sutton took Maxwell for a
ride in his open-cockpit biplane for a bird's-eye view of Marco Island.
"Kermit knows that I love airplanes and flying, and invited me for
a ride when we were in Naples for an alumni reception, which he and his
wife, Jenny, graciously hosted," Maxwell said. "Needless to say, it was
exhilarating!"
The two climbed between 400 and 1,000 feet, where they saw turkey
vultures flying above, in Sutton's three-year old reproduction of the
1930s Waco YMF plane, which was one of the last barnstormers.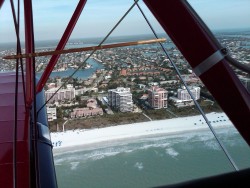 An aerial view of Marco Island.
"The view from that low altitude is wonderful, especially since it's
not obstructed by windows," Maxwell said. "Flying over the marshlands
east and north of Marco Island was beautiful. I'm very grateful to
Kermit for his generosity — it was a terrific experience."
The ride lasted for about 50 minutes down the beaches past the end of Marco Island, then returned north about a half mile inland.
"It's an incredible sensation to feel the wind when you're up there. In
a small, light plane like the Waco, you literally 'feel' the air — you
really know that you're flying, and it's a wonderous feeling!"

Sutton, an avid pilot, is a 1974 graduate of Drake Law School. He has owned and operated the Sutton Co. since 1990.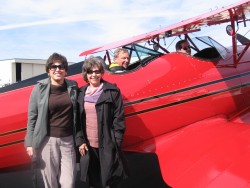 From right to left: President Maxwell, Kermit Sutton, Maddy Maxwell and Diane Caldbeck.
He began his legal career in 1974 as an associate at the Whitfield
& Eddy PLC law firm in Des Moines. In 1978 he became a partner in
the firm, then served as counsel from 1989 to 1991.
Sutton also was a
member of the Board of Directors of Palmer Communications Inc. from
1978 to 1994 and Palmer Wireless from 1994 to 1997.
He has been active in Drake Law School, serving on the Board of
Counselors since 2006. He has also served his community as a board
member of the Naples Community Hospital and Community School of Naples.
In addition, he is a trustee of the Conservancy of Southwest Florida
and chairman of the Naples Committee for the Heritage Foundation.