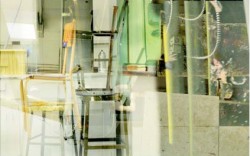 The exhibition image gives a glimpse of featured works by students.
CONTACT: Tory Olson, 515-271-1834, tory.olson@drake.edu
Drake University's Anderson Gallery will celebrate the 39th Annual Juried Student Art Exhibition with an opening reception and awards ceremony on Sunday, March 7.
The reception will be held in the Anderson Gallery from 11 a.m. to 1 p.m. with an awards presentation at noon in the lobby of the Harmon Fine Arts Center, 25th Street and Carpenter Avenue. The reception and exhibition are free and open to the public.
Featuring a variety of works created by 15 students in Drake's Art and Design Department, the exhibit will run through Sunday, March 28.
This year, 79 works were submitted for consideration. Jill Featherstone, museum education director of the Des Moines Art Center, selected 23 for the exhibition. Matt Selsor, exhibit curator and director of the Anderson Gallery, and the Art and Design Department faculty selected a final work for inclusion as the winner of the Provost's Purchase Prize.
"I looked for works that demonstrated a competency in execution while retaining an emotional impact," Featherstone said. "I also wanted to recognize works in every program represented by Drake's Department of Art and Design."
The exhibit will showcase art by the following students:

Hannah Boom, a senior graphic design, magazines and art history major from Manchester, Iowa
John Cannon, a senior graphic design major from Eldridge, Iowa
Jennifer Cerna, a sophomore psychology major from Milford, Kan.
Andrew De Broux, a senior graphic design major from Windsor Heights, Iowa
Amanda Rae Bruns, a senior drawing major from Newton, Iowa
Alexandra Doffing, a senior advertising and graphic design major from Hastings, Minn.
Meredith Gallivan, a senior graphic design major from Byfield, Mass.
Hannah Hoffman, a junior graphic design and international business major from Whitefish Bay, Wis.
Tatiana Klusak, a junior advertising and graphic design major from Tiverton, R.I.
Olivia Lansing, a senior graphic design major from Delwood, Minn.
Trisha Lightfoot, a senior advertising and graphic design major from Shenandoah, Iowa
Ashley Machacek, a senior painting major from Arvada, Colo.
Ashley Pettit, a senior drawing and graphic design major from Fort Benton, Mont.
Haley Tatom, a sophomore painting and psychology major from Anchorage, Ala.
Sandra Tomer, a senior graphic design major from Ames, Iowa
The Anderson Gallery is open from noon to 4 p.m. Tuesday through Sunday.
For more information about the exhibit, contact Matt Selsor at 515-271-1994 or matt.selsor@drake.edu.