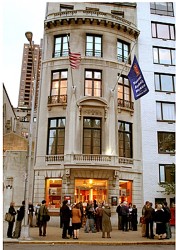 National Academy Museum
CONTACT: Tory Olson, 515-271-1834, tory.olson@drake.edu
Phillip Chen, Drake University professor of art and design, is exhibiting his print "Lucky 8" at the National Academy Museum & School of Fine Arts in New York City.
Chen is one of 400 artists nominated by National Academy members for the 185th Invitational Exhibition of Contemporary American Art. Artists submitted more than 1,400 works and Chen's is one of 66 being featured in the combined media exhibit.
The exhibition has been praised by the New York Times as a presentation of "new clarity and intensity" that includes "drawings, prints, collages and cabinet paintings with an outsize level of ambition." Read the review online.
Professor Chen's print, "Lucky 8," was created for his 2009 solo exhibitionat Three Shadows Photography Art Centre, Beijing. The print, measuring
62 inches in height, highlights China's emergence as an economic and
political force, contrasting it with covert Chinese market practices.
The National Academy of Design was founded in 1825 by leading artists
Samuel F.B. Morse and Thomas Cole to "promote the fine arts in America
through instruction and exhibition." It continues to play a critical
role in preserving and fostering the visual arts in the United States.
Notable among National Academicians are Thomas Eakins, Louis Bourgeois,
Jasper Johns, Frank Gehry and Maya Lin.
The exhibition remains on view at The National Academy Museum, 1083 Fifth Ave., through June 8th.