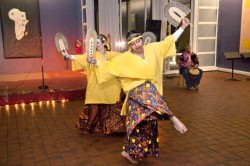 Students perform an African dance.
African cuisine, art, poetry, dance, fashion and all-round entertainment will be celebrated at the African Renaissance Night at Drake University on Friday, Feb. 26.
The event, which is free and open to the public, will run from 6 to 9 p.m. on the Pomerantz Stage in Olmsted Center, 2875 University Ave.
Drake's African Student Association is sponsoring the event. For more information, send an e-mail message to asa@drake.edu.