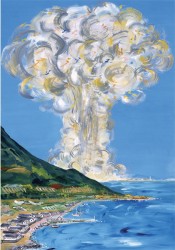 "The pillar of smoke rose rapidly" by Toshifumi Goto, who was 19 at the time of the bombing of Hiroshima.
Historian and Drake Assistant Professor of History Michael Chiang will
deliver a lecture at Drake University Thursday, March 4, about the impact of the 1945 atomic bombing of Hiroshima and Nagasaki
at the end of World War II.
The lecture, titled "Countdown to Peace: The A-Bomb and Japan's
Decision to Surrender," is free and open to the public and will be held from 7-8:30 p.m. in the Cowles Library Reading Room, 2725 University Ave. A
reception will follow. The lecture is held in conjunction with the Hiroshima-Nagasaki A-Bomb Exhibit that
continues through March 31 in Collier Heritage Room in Cowles Library.
The Hiroshima-Nagasaki A-Bomb Exhibit contains materials from
the Hiroshima Peace Memorial Museum in Japan, including dozens of
photographs of Hiroshima and Nagasaki before and after the bombings,
drawings from survivors depicting their experiences and a collection of
15 oral testimonies.
Professor Chiang's
research interests include late imperial and modern Chinese political
and social history; China-Taiwan relations; bureaucracy; contemporary
Japanese society and politics.
Chiang speaks Chinese and Japanese and is involved with the:

Association for Asian Studies
American Historical Association
Chinese Military History Society
The exhibit and events, which are made possible by the
Hiroshima Peace Memorial Museum in Japan, are part of Drake's
Engaged Citizen Experience series.
The theme for this year's Engaged Citizen Experience is "Religion,
Reason, and the Republic: What Role do Faith and Science Play in
Shaping Democracy?" The initiative is part of the Drake Curriculum,
which aims to ensure students will learn to participate effectively in
democratic processes through coursework and classroom and community
activities. Students are required to earn a number of credits to
fulfill the Engaged Citizen Experience.
For more information about the exhibit and related events, contact Mary McCarthy at 515-271-2038.