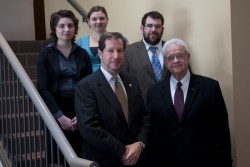 Back row from left to right: Mariah Marconi, Jessica Lang, Zach Smith; Front row: Drake President David Maxwell and Congressman Leonard Boswell.
CONTACT: Lisa Lacher, 515-271-3119, 515-343-9030, lisa.lacher@drake.edu
Drake University President David Maxwell announced today that Drake has received $1.58 million in federal funds for a new virtual language-learning program developed to meet the nation's critical need for fluent speakers of languages other than English.
Drake's Virtual Language Studies program is designed to help increase competence in less commonly taught languages for reasons of national security and global economic competitiveness. Students in the program are learning Russian and Mandarin Chinese.
The federal funds helping to support the program come from an $800,000 appropriation signed into law in December 2009 and a $788,177 grant from the Department of Defense and its National Security Education Program.
U.S. Rep. Leonard Boswell, D-Des Moines, joined President Maxwell in making the announcement at a news conference today.
"Drake would like to express our profound thanks to Congressman Boswell for his leadership and commitment in securing the federal funds for this innovative program," President Maxwell said.
"As a former member of the House Select Subcommittee on Intelligence, he has a very sophisticated understanding of the national crisis in foreign language capacity, and recognizes the contribution that a university in his own district is making to address the problem."
"This funding will help Drake to have a broad national impact on the development of foreign language capacity," Boswell said. "This program will help meet critical — and unfulfilled — national security needs for competence in languages other than English, and will provide a wealth of effective strategies that can be adopted in other venues. I will continue to work with Drake and the intelligence community to promote greater language capacity, which I have no doubt will strengthen our national security."
Before Drake received the federal funds, U.S. Rep. and House Majority Leader Steny Hoyer, D-Maryland, U.S. Rep. Silvestre Reyes, D-Texas, and Lt. Gen. Ronald Burgess, deputy director of national intelligence, visited Drake on several occasions to familiarize themselves with the University's World Languages and Cultures Program.
Virtual Language Studies is a pilot project within Drake's World Languages and Cultures Program. Jan Marston stepped aside as director of the World Languages and Cultures to direct the initiative.
Virtual language students practice speaking skills with native speakers and study the language in its cultural context with faculty members in small groups five days each week via real time video conferences and lectures in a virtual classroom. They use a broadband Internet connection and a computer with a webcam to participate in the virtual sessions.
This highly innovative language-learning model is focused on the development of effective communicative competence in the context of cultural knowledge. The project will produce materials of great value in supplementing other learning modes in an institutional setting. The program also will provide valuable resources for individual learners, including those in government roles.
Richard H. Ekman, president of the national Council of Independent Colleges, has stated that practical language learning is what many students want and need.
"I am very pleased at the news that Drake University's program has received this level of support," said Ekman, who was a member of the advisory board of the National Foreign Language Center, where President Maxwell served as director from 1993-99.
"The Virtual Language Program is producing language-learning materials that will be of great value to a variety of institutions and organizations," Ekman added. "The federal support is powerful recognition of Drake University's leadership in developing effective language-learning programs."
Three Drake students who are enrolled in the virtual language program also participated in the news conference:

Zachary Smith of West Des Moines, a senior secondary education major learning Mandarin Chinese after teaching English in China for a year
Mariah Marconi of Chatham, Ill., a first-year writing major studying Russian
Jessica Lang of Des Moines, a graduate education student learning Mandarin Chinese in hopes of teaching in China
The students spoke about their experiences with the program and presented works from their electronic portfolios, which include recorded interviews, writing samples and multimedia presentations.
In addition, the program gives students at smaller institutions the opportunity to learn languages less commonly taught and offered by Drake.
So far, Drake is collaborating on the development of materials for the project with students and faculty at four other colleges and universities:

Abilene Christian University in Abilene, Texas
Davis and Elkins College in Elkins, W.Va.
Russell Sage College in Troy, N.Y.
Southern Vermont College in Bennington, Vt.