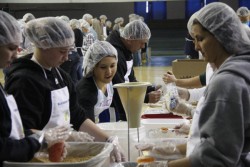 Members of the softball team prepare meals in the Fieldhouse.
More than 300 people from the Drake University community, including over 100 Bulldog student-athletes, celebrated Martin Luther King Jr. Day by participating in Meals from the Heartland at the Drake Fieldhouse.
The goal of packaging 50,000 meals was exceeded as 51,410 meals were packaged in three hours, with the meals going toward relief efforts for the devastating earthquake in Haiti.
This is the third year Drake student-athletes have been involved with Meals from the Heartland.
"There is no better way to come together as a university community than in service honoring Martin Luther King," said Sandy Hatfield Clubb, director of athletics at Drake.
"It was a spectacular day in which we exceeded our goal to feed 50,000 people. I encourage everyone that feels the urge to help our sisters and brothers in Haiti to give to Meals from the Heartland."
Since 2008, Meals from the Heartland has gathered thousands of Iowa volunteers each year for one week to package millions of meals for the world's hungry.
Last year, more than 15,000 volunteers gathered at Hy-Vee Hall to package more than 4 million meals that were shipped to South Africa, Haiti, Jamaica, Israel and around the United States.
Each meal package contains rice, soy flour, dried vegetable and a vitamin tablet.
The partnership with Drake to help kick off the school year is a tribute to Dr. Martin Luther King Jr., who once said, "Life's most persistent and urgent question is 'what are you doing for others?'"