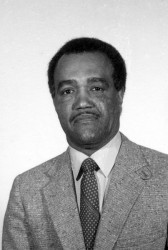 Eddie V. Easley
Eddie V. Easley, who taught at Drake for 26 years and was the first African-American to be hired by the University in a tenure-track position, died at the age of 81 on Jan. 13 in Winston-Salem, N.C., after a 15-year battle with cancer.
His former colleagues in the College of Business and Public Administration have fond memories of him and are quick to recall his unwavering dedication to students and fellow faculty members.
"Eddie Easley was the consummate Drake professor," said Doug Hillman, Aliber distinguished professor of accounting. "He was an outstanding teacher, revered by his students, a true scholar who brought the latest ideas to his courses and a servant to our community.
"Eddie also was a caring mentor to new faculty," Hillman added. "He was a role model for me as I made my transition from student to faculty, showing me what it really meant to be a faculty member at Drake University. I owe much to Eddie as a mentor, colleague and friend. His students were truly important to him, whether they were currently in his course or had graduated years earlier."
"When I arrived at Drake I was a new Ph.D. and he was a very impressive senior professor who was very helpful and very gracious toward junior faculty," said Pat Heaston, Aliber distinguished professor of accounting. "He really made me feel welcome; he made me feel like Drake was a good place to be. We weren't in the same discipline, but he went out of his way to welcome me."
Diana Reed, associate professor of management, also described professor Easley as an excellent mentor for young faculty members. "He took them under his wing and told them how things were," she said. "He gave his time to us, whether it was help with classes or working on committees. He was just always available."
Funeral services were held Jan. 16 at Wait Chapel on the campus of Wake
Forest University, where professor Easley taught for many years.
Professor Easley joined the Drake faculty in 1957 and was promoted from
assistant professor of marketing to associate professor and then full
professor. He served as chair of the Marketing Department from 1966 to
1984. He was chosen as Drake's Teacher of the Year in 1968. In 1977, he
received the Faculty Service Award.
After leaving Drake in 1984 to be closer to his aging mother in
Virginia, he joined the faculty of the Calloway School of Business and
Accountancy at Wake Forest University. He taught classes in marketing
and created a sports marketing class. He retired in 1999, but continued
to teach part-time for several years.
A native of Lynchburg, Va., professor Easley earned his bachelor's
degree from Virginia State University and received his master's degree
and Ph.D. in economics and statistics from Iowa State University.
Professor Easley's professional resume consists of a wide array of
published and unpublished works, seminar papers, journal articles and a
co-authored book. He was actively involved with the American Marketing
Association during his professional career, serving as president of the
Iowa Chapter at one point. He was a member of the Visitation Panel,
American Assembly of Collegiate Schools of Business, from 1975 to 1981.
Survivors include Ruth, his wife of 53 years; a daughter, former Drake
trustee Jacqueline Easley of Des Moines; two sons, Michael of Tampa,
Fla.; Todd of Denville, N.J.; four grandchildren, an aunt and a host of
cousins and special friends.
The family has requested that remembrances be made to the Cancer
Support Program, Wake Forest Medical Center or the Mercy-Des Moines
Medical Center Foundation.