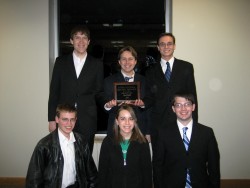 Team 1102 consists of (front row) Greg Boal, Sarah Francis, Dakota Johansen; (back row) Chris Bartak, Daniel VanSant, Nicholas Janning.
Two Drake University Mock Trial teams placed in the top 10 teams and won five individual awards at the final invitational last weekend at Loras College in Dubuque, Iowa.
"There was a lot of tough competition at the Loras College tournament, so it felt great that we were able to show that Drake Mock Trial continues to be a competitive program," said Valerie Whiting, a junior marketing major.
The Loras Invitational consisted of 68 teams split into two divisions.
Drake Team 1102 placed seventh in the gold division. Individual awards included:

Nicholas Janning, a senior English and politics major, for his portrayal of an astronomy student that serves as the only eyewitness to the murder
Daniel VanSant, a junior international relations and politics major, for his portrayal of a famous actor in the fictional state of Midlands
Greg Boal, and sophomore journalism major, for his outstanding performance as a prosecution and defense attorney
"I love the fact that we were able to bring home two team trophies this weekend," said Sarah Francis, a sophomore pre-pharmacy student. "At every tournament so far, we've received many individual awards, but placing as a team really shows that we are getting everything in place.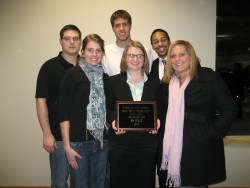 Team 1103 consists of (front row) Anna DeVries, Valerie Whiting, Amanda Thorson; (back row) John Magruder, Evan Clark, Kyair Butts.
Drake Team 1103 placed fifth in the purple division and won two individual awards:

Kyair Butts, a junior psychology and journalism major, received an All-American attorney award
Evan Clark, a junior management major, received an individual award for his portrayal of a forensic entomologist
The student-coached Drake Mock Trial program will send one team to
the regional competition in Davenport, Iowa, this weekend, followed by
the other two teams that will compete in Topeka, Kan. on Feb. 19-21.
"Drake placing two teams at Loras is a wonderful feat that not many
schools can say they did," said Butts, president of Drake Mock Trial.
"It also continues to show that Drake can compete at a national level
against national competition and consistently do well."
Members of team 1102 are Nicholas Janning, Daniel VanSant, Sarah
Francis, Greg Boal, Chris Bartak, a junior actuarial science and
economics major, and Dakota Johansen a first-year student majoring in
politics and psychology.
Members of team 1103 are Kyair Butts, Evan Clark, Amanda Thorson
Valerie Whiting, a sophomore English major, Anna DeVries, a sophomore
politics major, and John Magruder, a junior economics major.