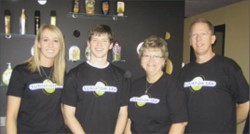 Ashley Brand, Stephen Roney, Renita Brand and Curt Brand at Sunsation Spa on the business's first day of operation.
Two students in Drake's College of Business and Public Administration recently opened a spa and tanning salon in Drake's West Village, the University's mixed-use housing and retail complex west of campus on 31st Street.
Sunsation Spa, located on the West Village's ground level, is a joint venture between Ashley Brand, a junior marketing management major from Urbandale, Iowa, and Stephen Roney, a senior general business major from Des Moines.
Brand's parents, Curt and Renita of Urbandale, initially provided funding for the enterprise and now serve as business advisers.
The company, which opened its doors for business last month, offers specials and discounts for Drake students and alumni.
"I live in Drake West Village and my boyfriend, Stephen, and I started considering the idea of opening a tanning salon in the complex," said Brand, who will graduate in December 2010.
"When Drake West Village was built, they did a study to see what the student body wanted for retail shops, and a tanning salon ranked in the top three.
"Stephen and I did a lot of research on tanning beds and the companies that produce them. We also researched the impact of indoor tanning on people and health to learn about vitamin D, ultraviolet light and light therapy."


Renita Brand, Steve Niebuhr from Hubbell Realty, Drake West Village representative Kally Knudsen, Ashley Brand, Stephen Roney and Curt Brand joined in for the ribbon-cutting ceremony.
As the managing owner of Sunsation Spa, Brand is in charge of
supervising the business's employees, 10 of whom are Drake students.
She also creates the company's marketing materials.
When asked how she balances managing her own business with keeping up
with her schoolwork, Brand cited her organizational skill as the key to
her success. "I have always considered myself to be a very organized
person, but Sunsation Spa has definitely pushed me to a new level.
"I get to apply the concepts I'm learning in class right now to my
business, and that has made each of my classes more exciting for me. I
feel like our business professors have really stood behind us in this
new adventure."
Brand and Roney's professors helped the students by distributing a survey asking students what they want from a tanning salon.
The results helped guide the spa's marketing and pricing strategies,
which are geared toward Drake students. Special packages are designed
to maximize flexibility and affordability for students.
There is no traditional membership fee to join the spa, and students
can freeze their accounts in the summer. They can also have fees
automatically withdrawn from checking accounts every month.
Sunsation Spa offers a variety of membership levels and minutes
packages, which can be found online or by inquiring at the store during
regular business hours. The spa is open:

9 a.m. to 10 p.m. Monday through Friday
9 a.m. to 9 p.m. on Saturday
12 p.m. to 8 p.m. on Sunday