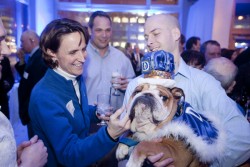 Athletic Director Sandy Hatfield Clubb, left, visits with Kevin Bell and the 2009 Beautiful Bulldog winner, Porterhouse.
Hundreds of alumni and friends of Drake recently gathered to embrace their blues and celebrate the Drake-Des Moines partnership at an event in the city's historic Chamberlain building.
The Soul Searchers, a local Des Moines band, painted a soulful musical backdrop for the Jan. 15 "Paint the Town Blue" event, dazzled in blue lights and paint. Guests were serenaded as they enjoyed a wide selection of appetizers from decadent chocolate-covered cheesecake bites to classic Beef Wellington.
Meanwhile, many guests were drawn outside by complimentary horse-drawn carriage rides to get a glimpse of downtown Des Moines in the crisp January evening air.
Photos from the event are available online at Flickr and in a photo gallery.
Among the crowd were Drake President David and Maddy Maxwell, members of the Drake Board of Trustees, local business leaders, Drake faculty, staff, alumni and many friends of the University.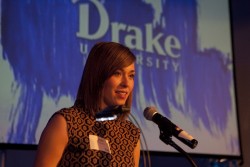 Josie Pokorny thanked attendees for their support of Drake and the Des Moines community.
One guest stood out in the crowd as she represented a large part of
Drake's family — its students. Josie Pokorny, a sophomore
biochemistry, cell and molecular biology major from Des Moines, gave
her testimonial about Drake and its great impact on her life and
hometown.
"Drake is special to those who gathered that evening," Pokorny said,
"and the event was a great way to celebrate the positive relationship
between Drake and the community of Des Moines.
"It was fantastic to be able to share my Drake story with alumni and
members of the Des Moines community. In turn, many alumni shared with
me their fond memories of Drake."
Drake Board of Trustee member Suku Radia, CEO and president of Bankers
Trust Co., and President Maxwell also spoke to the audience about
Drake's special place in Des Moines.
"It's an honor to celebrate the Drake and Des Moines partnership —
let's hear it for Drake!" said Radia, who served as emcee for the
evening. "My life has been enriched by Drake. Thank you all for being
connected to this University."
President Maxwell put on his professor hat for a moment to give
audience members a homework assignment to be messengers from Drake in
the community.
"I hope that you'll accept my assignment — to carry the message far
and wide, and to do what you can to add to the University's resources,"
said Maxwell, who shared a list of talking points about Drake's success.
Maxwell thanked everyone "for maintaining and strengthening the
connections between Drake and the community, and for all that you do on
a daily basis to paint the town Blue…"