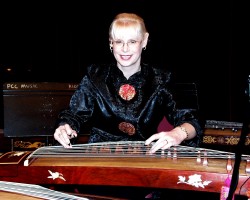 Wanda Bryant
A knowledge of world music and a great deal of imagination brought Drake alumna Wanda Bryant, FA'75, to work on director James Cameron's latest film, "Avatar."
Bryant, who has a bachelor's degree in music education from Drake, is an expert in ethnomusicology, the study of music as it relates to culture. Based on her experiences with sounds from all over the world, she was contacted to create a unique musical language for the Na'vi people, an alien population invented for the film.
"My job was to find unusual musical timbres to represent the alien culture, sounds that 'no one has heard before'–that is, not readily recognizable by the average American moviegoer," said Bryant, whose work was recently featured in an article in Film Score Monthly.
She was contacted for the job in May 2007 through the California Institute of the Arts, where she teaches courses in music cultures. Her research for creating the language focused on vocal sounds, tuning systems and song structures.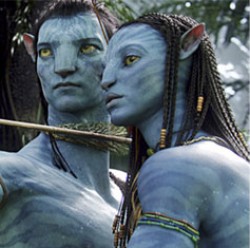 Over months of recording sessions, she worked with film score composer James Horner to present 250-300 sound samples, which were eventually narrowed down to about six for use in the film. Bryant and Horner then created music that reflected the timbre, structure and style of the chosen sounds.
"The work we were doing was highly experimental. Some ideas worked well, others did not. Audiences are much more accepting of new innovative visual images than of new musical sounds," Bryant said.
She also contributed to the film's companion book, "Avatar: a Confidential Report on the Biological and Social History of Pandora." She drafted 35 pages of details about the Na'vi music culture, which include classifications for song forms, timbres, musical instruments, playing techniques, mythology and history.
"Much of what I wrote was pure imagination," she said. "I fleshed out the basic concepts and added loads of details that are in keeping with current ethnomusicological thinking about aboriginal cultures."
Byrant's knowledge of world music and culture is rooted in her Drake education, which prepared her to earn her doctoral degree in ethnomusicology from the University of California-Los Angeles.
"My education at Drake gave me a solid foundation in Western classical music, a baseline from which to begin analyzing the musics of other cultures," she said.
While "Avatar" is Bryant's first film, she has a broad knowledge of film scores. She teaches a unit on music and film at Pasadena City College, where she is adjunct assistant professor of performing and communication arts.
"This experience has been the ride of a lifetime," Bryant said of "Avatar." "It was personally enriching because it filled in a lot of gaps in my own understanding of the film-scoring business."