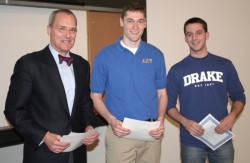 Dean Charles Edwards, left, congratulates Austin Mitchell, middle, and A.J. Harris, right, two members from the first-place team.
Three teams of Drake University business students were honored yesterday at an awards ceremony for winning the Roger K. Brooks Weekend Case Competition. Brooks, retired chairman and CEO of AmerUs Group, now Aviva PLC, supported the competition with a generous gift.
Ten teams of three or four students participated in the case competition, which involved three insurance companies that recently merged into Assurity Life Insurance Co. in Lincoln, Neb. The students studied, evaluated and gave recommendations on whether the company should build a new facility in the inner city or suburbia.
Student groups wrote reports and gave presentations to several Drake faculty members who judged the competition.
"Writing the executive summary and giving a presentation was good experience on presenting only the most valuable points of our analysis, which is what our future bosses would most likely want," said Austin Mitchell, who was part of the first-place team.
"Having only the weekend to do the project simulated a real-life work experience in which results are needed quickly," he added.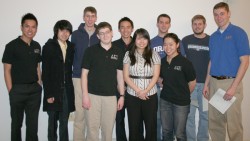 Members from the top three teams gather for a photo after the award presentation.
Participants in the top three teams each won cash awards: first place, $300; second place, $200; and third place, $100.
Students on the first-place team are:
Bo Bell of Las Vegas, a senior actuarial science and finance major
Lauren Ford of Kansas City, Mo., a senior actuarial science and accounting major
A.J. Harris of Des Moines, a senior actuarial science and finance major
Austin Mitchell of Des Moines, a senior actuarial science and finance major
A full list of student winners, including two teams that received honorable mention, is available online.
Preparation for the real world
The goal of the competition was to challenge students put their
education and professional skills to the test in a case similar to what
they will find in the professional world.
"The Brooks Weekend Case Competition was designed for students to
integrate the tools they have learned in the classroom into a fairly
complex case," said Jill Bale, visiting assistant professor of finance.
"By requiring both a professional presentation and a brief report,
the competition simulated challenges that students are likely to face
in their professional careers," added Bale, who served as a judge with
Associate Professor of Finance Jimmy Senteza, and Assistant Professor
of Finance and Actuarial Science Toby White.
Students used the skills they have learned in several actuarial science and finance classes.
"The competition was a valuable experience because it required us to take the knowledge that we have gained from various courses at Drake and apply it to a single, real-world problem," Harris said. "It was nice to see that the material covered in our finance and actuarial science courses can be integrated into solving a complex problem."
"The Brooks competition offered a great opportunity to work with
other students on a financial project," Mitchell said, "similar to what
we would see in the real world."