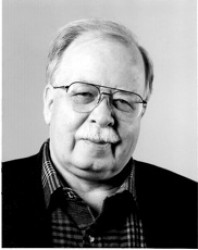 William S.E. Coleman
A one-act comedy by William S.E. Coleman, professor emeritus of theatre arts at Drake University, is one of 11 plays selected for performance at the Sixth Annual Snowdance Comedy Competition.
Coleman's "How Now, Brown Couch?" was chosen from 241 entries from 30 states, Europe, China, Canada and Australia.
The bill of plays will be staged by the Over Our Head Players at the troupe's Sixth Street Theatre in Racine, Wis. The performance of these plays will open on Jan. 29 and run through Feb. 28. Once the premiere run is completed, Coleman's play will be available to other theatres.
Coleman describes "How Now, Brown Couch?" as pop absurdist. The play deals with how a very average middle-class married couple reacts when they discover that their aging and well-worn living-room couch is pregnant.
Two more plays by Coleman win awards, productions
In less than two years, Coleman has received six international awards for his stage plays, and a total of nine productions. Three of these awards were for full-length plays. In addition, one of his screenplays was optioned for production.
Two of his plays were presented last summer, in very different locations:

Santa Ana, Calif.:

"The Morning After the Night Before,"

a two-act, full-length comedy, was selected out of 150 entries for the Third Annual Panndora's Box Festival of New Plays. The international call resulted in five plays presented at the festival in June at Santa Ana's Breath of Fire Theatre.
Fairfield, Iowa:

"April in June,"

a romantic comedy, was selected and produced by the Iowa Play Festival of Writers, Directors and Actors. The play appeared on a bill with five other plays in July at Fairfield's Stephen Sondheim Center for the Performing Arts.