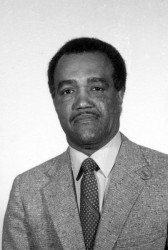 Eddie V. Easley
Eddie V. Easley, who taught at Drake for 26 years and was the first African-American to be hired by the University in a tenure-track position, died Wednesday in Winston-Salem, N.C., after a 15-year battle with cancer. He was 81.
Funeral services were held Saturday, Jan. 16, at Wait Chapel on the campus of Wake Forest University. His family, which includes his daughter, former Drake trustee Jacqueline Easley, received friends in the chapel before the service.
The family has requested that in lieu of flowers, remembrances be made to The Cancer Support Program, Wake Forest Medical Center, or the Mercy-Des Moines Medical Center Foundation.
Professor Easley joined the Drake faculty in 1957 and was promoted from assistant professor of marketing to associate professor and then full professor. He served as chair of the Marketing Department from 1966 to 1984. He was chosen as Drake's Teacher of the Year in 1968. In 1977, he received the Faculty Service Award. His time at Drake was separated with a year of teaching and research at the University of Wisconsin-Milwaukee.
After leaving Drake in 1984 to be closer to his aging mother in Virginia, he joined the faculty of the Calloway School of Business and Accountancy at Wake Forest University. He taught classes in marketing and created a sports marketing class. He retired in 1999, but continued to teach part-time for several years.
"Ed already had a well-established career when he came here and he brought an astute knowledge of academia, and he contributed so many ways to the school," said Wake Forest Professor of Accountancy Thomas Taylor, who was dean of the school when Easley was hired.
"But more important than that," Taylor said, "was the kind of person he was. He was in every sense a gentleman. He always put his students first and tried to do what was best for his students and the school."
A native of Lynchburg, Va., Easley earned his bachelor's degree from Virginia State University and received his master's degree and Ph.D. in economics and statistics from Iowa State University.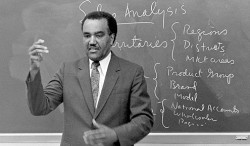 Easley taught in the business school at Wake Forest University from 1984-1999.
Professor Easley's professional resume consists of a wide array of
published and unpublished works, seminar papers, journal articles and a
co-authored book. He was actively involved with the American Marketing
Association during his professional career, serving as president of the
Iowa Chapter at one point.
He was a member of the Visitation Panel, American Assembly of
Collegiate Schools of Business, from 1975 to 1981. In a 1978 foreign
assignment, he assisted the University of Ghana in Accra in instituting
a master's program in management.
Outside of academia, professor Easley's contributions were felt in
many areas. In the Des Moines community, he served on the City's Board
of Zoning Adjustment, United Way of Central Iowa, Des Moines School
Board Desegregation Advisory Committee, Mental Health Commission in
Polk County, Iowa, and the Governor's Committee to plan a Future's
Conference for the state of Iowa.
In Winston-Salem, he served two terms on the YMCA Board, was a
charter member of the Boys Camp Board and was a volunteer in the Cancer
Patient Support Program at the Wake Forest Medical Center. Recently, he
received a 2,000-hour service award for his volunteer work at the
Medical Center.
Professor Easley was awarded three Ford Foundation Fellowships at
various times for summer study under the auspices of University of
Chicago, Carnegie-Mellon and University of Michigan.
He is listed in Outstanding Educators of America, Who's Who in
America, and holds membership in Beta Gamma Sigma, business honorary
society, and Omicron Delta Kappa, men's leadership honorary society. He
was named Alpha Phi Alpha's Brother of the Year by his chapter in Des
Moines and was the recipient of his Winston-Salem chapter's Jewel Award
in 2005. He is also a member of Sigma Pi Phi fraternity.
His immediate family includes Ruth, his wife of 53 years; three
children, Jacqueline of Des Moines; Michael of Tampa, Fla.; Todd of
Denville, N.J.; four grandchildren, an aunt, Olivia Couch, of
Pittsburgh, Penn.; and a host of cousins and special friends.