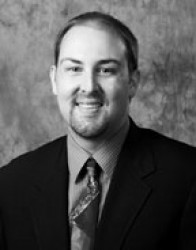 Grady McGrannahan
Grady McGrannahan, Drake University assistant professor of low brass and assistant director of bands, has postponed his recital set for 8 p.m. today (Monday, Jan. 25), due to the winter weather.
The free, public recital will be rescheduled for later in the spring semester.
The program will feature works not originally written for the trombone, which McGrannahan has researched for a paper he is writing, "Alternative Solo Repertoire for the Bass Trombone." He will perform:

"Four of the 24 Piano Preludes, op. 34" by Dmitri Shostakovich
"Adagio and Allegro, op. 70" by Robert Schumann
"Tubacchanale" by Roger Boutry
"Four Serious Songs, op. 121" by Johannes Brahms
"Concerto for Tuba" by Vaughan Williams
A native of Reno, McGrannahan previously taught trombone at Florida State University, where he is a candidate for a doctoral degree in trombone performance. He holds a master's degree in trombone performance from Northwestern University and a bachelor's degree in music education from Indiana University.
McGrannahan has performed with many professional ensembles, including the Tallahassee Symphony, Civic Orchestra of Chicago and Reno Philharmonic Orchestra, among others.
He has taught publicly, most recently at the Grammy Award-winning Sprague High School in Salem, Ore. He also has taught at Valparaiso High School, Reno High School and Lake Tahoe Music Camp.