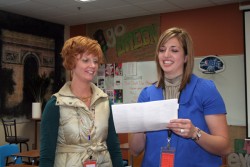 Drake produces outstanding teachers such as Rhodes Scholar Lindsay Whorton shown here collaborating with Kristine Milburn at Valley High School.
The Iowa State Board of Education voted unanimously to reaccredit Teacher Education, Educational Leadership and School Counseling programs in the Drake University School of Education on Jan. 14.
"The Department of Education's unconditional approval is the result of program revisions implemented over the last five years. Seventy-five faculty, staff and support personnel are responsible for making this accreditation so successful," said School of Education Dean Jan McMahill.
An accrediting team visited the school from Oct. 11-14 and was led by Arlie Willems, administrative consultant for educator preparation in the Iowa Department of Education.
Willems noted that the school had met or met with strength all standards in Chapter 79 of the Iowa law governing accreditation of education programs and had no conditions that had to be met prior to reaccreditation.
"This is," Willems said, "a very rare occurrence." She also commended the school for its emphasis on social justice, its fine faculty, collaborative leadership, its state leadership in teacher education assessment and positive strides to promote continuous school improvement.
"The team was impressed with the School of Education and the university," Willems said.
"The culture exhibited a combination of a proud tradition and a collaborative dynamic that indicated that the Drake School of Education is a community with a desire to positively affect education in the state of Iowa and the nation."
The accreditation status of the Drake University School of Education extends for a full seven years for programs in undergraduate and graduate teacher education. That designation covers a total of 41 endorsement areas, PK-12 school leadership (principal), PK-12 school leadership (superintendent), elementary school counseling and secondary school counseling.
"When reading the local newspapers and listening to television reporters, you could easily be discouraged about the condition of education in our country," McMahill said. "Instead, please consider what we are doing at Drake and share my pride in the preparation of world class educational leaders."