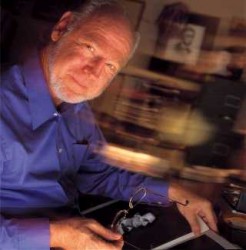 Ronald Rietveld
Historian Ronald Rietveld will present a lecture titled, "An Abraham Lincoln Memory," at Drake University on Thursday, Jan. 21.
The event, which is free and open to the public, will be held at 7 p.m. in Cowles Library Reading Room, 2725 University Ave.
Rietveld is professor emeritus of history at California State University at Fullerton.
At 14 years of age, while examining the Illinois State Historical
Library's Nicolay papers in 1952, Rietveld discovered the last
photograph ever taken of Lincoln. He has been an enthusiast of history
ever since.

Rietveld serves as a member of the Historical Advisory and Content Team
for the Abraham Lincoln Presidential Library and Museum in Springfield,
Ill.
He is also an adviser to the Abraham Lincoln Bicentennial
Commission.
Lecture and mobile exhibit will promote study of Lincoln



In conjunction with the Jan. 21 lecture, the State Historical Society
of Iowa will provide its "History on the Move" exhibit. The display,
which is housed in a mobile trailer, will be hosted in the Olmsted
Center Visitor Parking lot off of University Ave.
"History on the Move," produced in cooperation with the Iowa Abraham
Lincoln Bicentennial Commission and with support from Union Pacific
Railroad Foundation, highlights Lincoln's associations with Iowa before
and during the Civil War.
Drake's 'Citizen's Arise!' and Gilder Lehrman Institute bring month-long Lincoln exhibit to Drake
The lecture and mobile exhibit are presented in concurrence with the
national traveling exhibit on President Abraham Lincoln displayed in
Drake's Cowles Library from Jan. 11 through Feb. 8, 2010.
The exhibit, entitled "Abraham Lincoln: A Man for His Time, a Man for
All Times," features the President's written and spoken messages,
enhanced by Civil War-era photographs, letters and images.
The exhibit is open during regular library hours from:

Monday through Thursday: 7:30 a.m. to 1 a.m.
Fridays: 7:30 a.m. to 9 p.m.
Saturdays: 9 a.m. to 7 p.m.
Sundays: 11:45 a.m. to 1 a.m.
The traveling display has been organized by the Gilder Lehrman
Institute of American History in New York City and made possible by a
major grant from the National Endowment for the Humanities.
Drake's "Citizens Arise!" series is a multi-year initiative that aims
to inspire students, teachers and citizens to responsible citizenship.
Its goal is to encourage all to learn about the history, development
and uses of the democratic process as an instrument for managing the
challenges of the 21st century.
For more information about "Citizens Arise!" and to view a complete list of events, visit citizensarise.drake.edu or contact Claudia Frazer at 515-271-3776 or claudia.frazer@drake.edu.