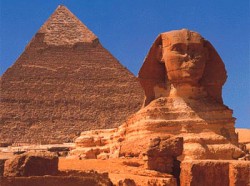 MEDIA CONTACT: Tory Olson, 515-271-1834,
tory.olson@drake.edu
Drake students have the opportunity to learn more about a summer seminar in Egypt at several informational sessions this week.
The final session will be held at 11 a.m. Friday, Jan. 22, in room 218 of Meredith Hall, 2805 University Ave.
The seminar, titled "Egypt: Cradle of Civilization," is a three-week, six-credit course focusing on contemporary Middle Eastern politics, culture and religion.

The program qualifies as a politics, international relations, history, and honors class, and it fulfills a multicultural area of interest.
The trip to Egypt is scheduled from May 17-June 7. Travel destinations include Cairo, Giza, Alexandria, the Red Sea, Luxor and Aswan.
Participants will have the opportunity to hear lectures from Egyptian university faculty, public officials and political leaders. They will also interact with university students and ordinary Egyptians.
For more information, contact Mahmoud Hamad at mahmoud.hamad@drake.edu or Marc Cadd at marc.cadd@drake.edu.