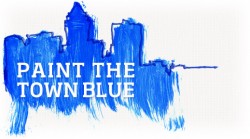 Drake alumni and friends will gather to "Paint the Town Blue" in an evening of celebration on Friday, Jan. 15, at the Chamberlain Building, 1312 Locust St. in downtown Des Moines.
Guests will join Drake University President David and Madeleine Maxwell and members of Drake's Board of Trustees and alumni office at 7 p.m. for hors d'ouevres and live entertainment. A cash bar will also be available.
"Our alumni are so engaged and this is a great opportunity to celebrate the great partnerships that we have with our alumni and Central Iowa," said Blake Campbell, director of Alumni and Parent Relations at Drake.
The cost is $20 per person with a discount rate of $10 for alumni who graduated from 2005-09. Guests may register online or by calling 515-271-3147.
Complimentary valet parking will be available and business or cocktail attire is suggested.