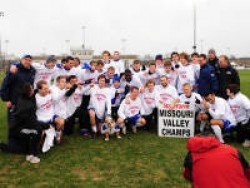 The Bulldogs celebrate winning the Missouri Valley Conference championship.
On the strength of its run to the Elite Eight of the NCAA Men's Soccer Tournament, the Drake men's soccer team has earned its highest ranking in school history. The Bulldogs check in at No. 8 in the final National Soccer Coaches Association of America (NSCAA) Top-25 National Poll released this week.
The ranking shatters the previous program high achieved last season when Drake was tabbed at No. 19 in the Sept. 30, 2008 NSCAA poll.
The Bulldogs also rated eighth in the final 2009 NCAA Ratings Percentage Index.



"To be ranked in the top 10 in both RPI and the NSCAA Coaches' poll is beyond our greatest expectations," Drake head coach Sean Holmes said. "We always thought we could build something special and I think this is validation of how far we truly have come as a program."
Drake established a school record 16 wins en route to posting its first-ever NCAA Tournament victories with wins over Western Illinois (2-1), No. 13 Ohio State (1-0, OT) and Boston College (6-4).
The Bulldogs led the NCAA Tournament in goals per game (2.50), while ranking second in total points (29), goals (10), total assists (9) and third in assists per game (2.25).