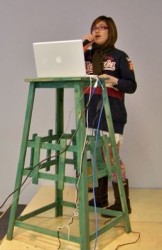 Drake student Monsicha Hoonsuwan performs karaoke in Japanese.
The story highlights several Drake students and their reasons for performing karaoke in Japanese such as practicing pronunciation.
Chinatsu Sazawa, Drake assistant professor of Japanese, told the Des Moines Register that karaoke originated in Japan and it is popular among businessmen much like golf is among those in the corporate world in the United States.
The performance was held at the Heritage Stage at the Des Moines Botanical Center, 909 E. River Dr.
The students, who are studying Japanese in Drake's World Languages
and Cultures program, have previously performed karaoke on Drake's
campus.
Jonathon Allred, a senior international relations major of Davenport, Iowa, also taught Japanese at the event.