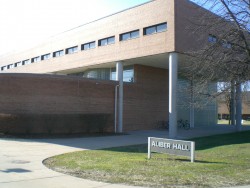 Drake's actuarial science program is housed in Aliber Hall.
Drake University is one of 12 universities in North America recognized as Centers of Actuarial Excellence by the Society of Actuaries, the world's largest actuarial professional organization.
This is the first time that particular actuarial programs at universities in the United States and Canada have been recognized for their excellence by the Society of Actuaries, a leading organization of professionals in the measurement and management of financial risk.
In announcing the 12 centers this week, the society noted that each university met specific requirements related to degree, curriculum, graduate count, faculty composition, graduate quality, appropriate integration, connection to industry and research/scholarship.
The designation will continue for five years, subject to continued conformity to the society's criteria.
As a Center of Actuarial Excellence, Drake will be eligible to compete for CAE Education and Research grants, beginning in the first quarter of 2010.
"We are very pleased to have Drake's Actuarial Science program designated as one of the top programs in North America," said Charles Edwards, dean of the College of Business and Public Administration. "This recognition is a tribute to the quality of our faculty, students and alumni, as well as our location in Des Moines, one of the country's top insurance centers.
"It also reflects our commitment to support the insurance industry by providing students with the technical foundation they need to pass the actuarial exams, plus a broad business background and an emphasis on communication skills that prepares them for management and leadership positions. Many of our actuarial science students take advantage of the opportunity to add a joint major in accounting or finance."
Actuarial science at Drake: a history of success
Numerous graduates of Drake's actuarial science program hold high-level positions in the insurance industry. They include:

Larry Zimpleman,

CEO and president of Principal Financial Group

Don Hamm,

president and CEO of Assurant Health

Jim Wallace,

chairman, president and CEO of GuideOne Insurance

Esfand Dinshaw,

president of Midland National Life Insurance
Other indicators of the strength of Drake's program are academic achievement and job placement.
From 2005 through 2008, Drake awarded 155 undergraduate degrees in actuarial science. Of these 155 graduates, 87 (56 percent) had passed two or more exams by the time they graduated. Actuaries must pass 10 exams to become fully credentialed.
Drake graduates also have considerable success in finding jobs with 94.8 percent of domestic students and 90 percent of international students employed upon graduation.
Another measure of the quality of Drake's program is the number of graduates who have passed all exams to become credentialed actuaries.
Over the last 10 years, Drake has awarded 273 degrees in actuarial science — 146 to domestic students and 127 to international students. Of the U.S. graduates, 47 (32 percent) are credentialed. Of the international graduates, 22 (17 percent) are credentialed.
"First and foremost, this designation as a Center of Actuarial Excellence is a recognition of the accomplishments of our alumni and current students," said Rahul Parsa, Drake professor of actuarial science as well as coordinator of the program and adviser for the Drake Actuarial Student Society.
"Secondly, it is a recognition of the hard work of the former faculty — Newton Bowers, Warren Adams and Stuart Klugman — and current faculty."
In addition to Drake, the other 11 Centers of Actuarial Excellence are:

University of Connecticut
Georgia State University
Illinois State University
University of Iowa
Université Laval
University of Manitoba
University of Nebraska–Lincoln
St. John's University
Temple University
University of Waterloo
University of Wisconsin–Madison