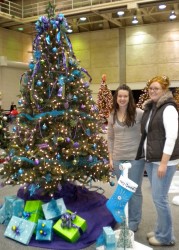 Tory Erxleben, left, and Jordan Ruestman, right, put finishing touches on the tree at the Festival of Trees and Lights.
CONTACT: Tory Olson, 515-271-1834, tory.olson@drake.edu
Two Drake pharmacy students, assisted by members of the College of Pharmacy and Health Sciences faculty and staff, decorated a holiday tree for the 26th Annual Festival of Trees and Lights.
The event, which is held in Des Moines and benefits programs at Blank Children's Hospital, was held last month.
This was the second year that third-year pharmacy majors Jordan Ruestman, from Minonk, Ill., and Tori Erxleben, from Arlington Heights, Ill., have helped decorate a tree.
The students learned about the festival from Associate Professor of Pharmacy Renae Chesnut. Erxleben is chairperson of the Drake Pharmacy Unified Group of Students (DRxUGS) and Ruestman serves as a national liaison for the American Pharmacists Association Academy of Student Pharmacists on the DRxUGS Board. Chesnut serves as the adviser for DRxUGS.
Each year, Chesnut invites students to join her and two other faculty members, Admission Liaison Darcy Doty and Director of Student Programs Jenny Tran, to decorate the college's tree.
"It takes about an hour once we get there to decorate and create a festive tree," Ruestman said. "Each year, Dr. Chesnut donates the decorations she used on her tree from the year before. She comes up with most of the design and we just help re-create it."
"Since we all have a pharmacy background, the tree always seems to be decorated in an orderly fashion," Erxleben said. "Dr. Chesnut wraps the presents, Darcy and Jenny hang the ornaments, I tuck the ribbon and Jordan places the tree topper. The tree is very well-assembled, just like the students and faculty at Drake."
"We really enjoyed putting it together," Doty said.
Merchants Bonding Company purchased the tree with a donation of more than $1,000 during a silent auction. The Drake pharmacy tree was the ninth most-chosen tree at the event.
Since 1984, the festival has raised more than $4.6 million in financial aid for children's health care and more than 635,000 visitors have enjoyed the trees and light displays.
The event is geared towards developing support and community appreciation for Blank Children's Hospital, promoting volunteerism and raising revenue for the hospital's Child Life Advocacy and Outreach programs.