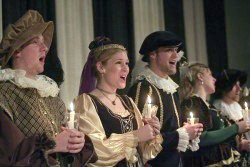 Vocalists in Drake's Chamber Choir perform at last year's Madrigal Dinner.
Enjoy a holiday feast and laughs with friends at Drake University's Christmas Madrigal Dinners at 7 p.m. on Saturday, Dec. 5, and Sunday, Dec. 6, in Drake's Olmsted Center.

The evening will feature a decadent Renaissance feast with wine and Cornish game hen, garlic mashed potatoes, spinach salad, baked apple, scones, wassail and figgy pudding, which is presented in a flaming fashion. Vegetarian meals are also available.
The night also features funny performances by strolling minstrels, jugglers and dancers as the Drake Chamber Choir serenades the audience.
The performers encourage guests to talk and get involved instead of similar events of its kind in which the audience is expected to sit quietly.
Tickets, which cost $50, are available through the Drake Fine Arts Box Office at 515-271-3841.