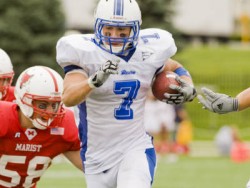 Steve Platek earned first-team All-PFL honors for the second straight year.
ST. LOUIS, MO. – Repeat first-team selection Steve Platek (Arlington Heights, Ill.) headlined a group of six Drake football players who earned first team All-Pioneer Football League playing honors.

All selections were made by the league's coaches, who were not permitted to vote for their own players.
Platek, a senior J-Back, was joined on the first team by fifth-year senior offensive lineman Quinn McVey (Bettendorf, Iowa); fifth-year senior tight end Frank Pucher (Skokie, Ill.); fifth-year senior kicker Brandon Wubs (Hawthorn Woods, Ill.); senior defensive lineman Dain Taylor (Highlands Ranch, Colo.); and fifth-year senior linebacker Cale Hunt (Littleton, Colo.)
Linebacker Tyler Moorehead (Mason City, Iowa) was named the PFL Freshman Defensive Player of the Year.
Fourteen Drake players earned All-PFL honors while helping lead the Bulldogs to an 8-3 record, including a 6-2 second-place league finish.
Fifth-year senior offensive lineman Eric Mora (Roselle, Ill.), senior linebacker Josh Walkup (Littleton, Colo.) and fifth-year senior safety Skye Buckner-Petty (Florissant, Mo.) all earned second-team All-PFL playing honors.
"Tyler Moorehead had an outstanding first year on our defense," said Drake head football coach Chris Creighton. "He developed into a destructive force blitzing off of the edge. Steve Platek had another excellent year. He was our go-to player on offense."
Moorehead was one of five Drake players who earned honorable mention All-PFL honors.
Other Drake honorable mention All-PFL selections were fifth-year senior receiver Spencer Cady (Fort Dodge, Iowa); sophomore offensive lineman Evan Lawrence (Moline, Ill.); senior linebacker Ben Morrison (Long Grove, Ill.) and sophomore nose guard David Witkiewicz (Hales Corner, Wis.).
Platek led Drake with a team-high nine touchdowns. He caught a team-best 49 passes for 553 yards, including three touchdowns. He also rushed 30 times for 147 yards, including a team-high six touchdowns.
McVey, Taylor and Wubs earned second-team All-PFL honors in 2008.
Hunt led Drake with 86 tackles, including 55 solo stops along with two quarterback sacks for nine yards in losses and one pass interception.
Taylor had 48 tackles, including 29 solos. He led Drake with 19.5 tackles for losses totaling 90 yards, while recording a team-high 10.5 quarterback sacks for 73 yards in losses.
"Dain Taylor was dominant on the defensive line," Creighton said. "Nobody could block him, he is a great player. Cale Hunt led this team. No one is respected more on our team than Cale. He has fought through two devastating injuries and had his best year ever."
In his first year as Drake's place kicker, Wubs led the PFL in field goals with 15 for a 1.18 average per game. He also ranked sixth in the league in punting with a 37.9-yard average, including a school-record 75-yard punt against Jacksonville.
"Brandon Wubs has had back-to-back excellent years," Creighton added. "His consistency is unreal. We are going to miss him."
Pucher caught 15 passes for 157 yards including two touchdowns.
"Frank Pucher played big his fifth year. He got it done in the passing game and on the ground blocking. Quinn McVey is a very intelligent offensive lineman and had a good year."
Mora and Buckner-Petty earned honorable mention all-league honors last year.
McVey and Mora were three-year starters on the offensive line.
Cady caught 28 passes for 298 yards including two touchdowns.
Buckner-Petty and Morrison ranked second on the Drake team in tackles with 75. Walkup had 32 tackles, including eight quarterback sacks for 43 yards in losses.
Moorehead ranked among the league's top 30 in tackles (6.1 pg) in his first season of action. He also ranked sixth in tackles-for-loss (1.32 pg) and was one of three players to lead the league with four forced fumbles this season. Moorehead was a key component of a defensive unit that ranked second in rush defense, surrendering 90.5 yards per game, and fourth in total defense, allowing 276.5 yards per contest.
Dayton quarterback Steve Valentino was named the league's Offensive Player of the Year, while Butler head coach Jeff Voris was named the league's Coach of the Year. Morehead State linebacker Wes McDermott received the league's Defensive Player of the Year honor. San Diego wide receiver Kyle Warren was named the league's Offensive Freshman of the Year.