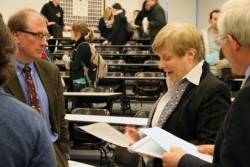 Nan Hunter addresses the audience, her opponent, Tom Berg, and moderator Mark Kende.
With Iowa's same-sex marriage decision in the national spotlight, the Law School's Constitutional Law Center hosted a debate addressing questions Iowans should examine after the state Supreme Court approved same-sex marriage.
"Iowa has received lots of attention nationally because of its Supreme Court decision approving same-sex marriage," said Mark Kende, professor of law and director of the center.
He moderated the debate, which was titled "Religious Liberty Exemptions and the Iowa Same-Sex Marriage Decision."
The question discussed was whether the Iowa legislature should respond to the decision by passing implementing legislation that grants broad or narrow religious liberty exemptions.
The debate featured:
Tom Berg, the St. Ives professor of law and associate dean at St. Thomas Law School in Minneapolis
Nan Hunter, professor of law at Georgetown Law School and legal scholarship director at the Williams Institute for Sexual Orientation Law and Policy at UCLA Law School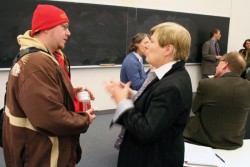 Following the debate, Nan Hunter discusses the same-sex marriage issue with Dennis Nissen, a junior actuarial science major from Des Moines.
Berg asserted that Iowa should permit religious organizations, businesses and even individual vendors to not provide services to same-sex couples if that would violate their religious principles. He and several other scholars have proposed legislation for consideration in Iowa.
The exemption might not apply, however, if the same-sex couple could not get the service elsewhere. He said that only such a broad exemption approach would fully acknowledge the importance of religious identity for people and for some businesses.
Hunter responded that such a broad exemption was unprecedented in anti-discrimination law and would open the door to abuses.
Instead, she said those who object to same-sex marriage should generally work to find more creative solutions than simply refusing to collaborate.
Otherwise, she said, Iowa will make same-sex couples into "second-class citizens."