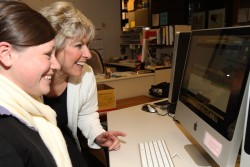 Drake student Leah Innis and Professor Sally Beisser collaborate using new technology.
Students in Drake's School of Education are using new tools and technology to create assignments and presentations, communicate with other students and faculty and conquer everyday tasks.
The school's lab and library are now equipped with new, upgraded iMac computers that are paired with new keyboards that minimize typing noise during testing. The units are also equipped with Web cameras and DVD-writing capability.
Faculty members and students also are using new flip cameras to record student presentations.
"This process is key because it removes an old step of importing the files, mailing DVDs and much of the work can be done digitally and later uploaded to an electronic portfolio," said Kenneth Kass, system administrator for the school.
"The flip cameras are durable with no moving parts and can be plugged right into a computer, run on normal AA batteries and have a standard tripod mount," Kass added.
Kass noted that faculty in the music department may adopt the tool and process for recording students while performing and teaching to enhance the music education program.
In addition, the School of Education is using a Web-based submission tool in which students can send files, including colorful posters or presentations, to be printed and sized by an SOE staff member.
"This tool allows our students to create rich, colorful posters to bring to the classroom," Kass said.
Meanwhile, students and professors at Drake are able to connect with other faculty and students off campus through television and video conferencing.
"This new technology allows us to connect with people," Kass said, "with whom we otherwise would be unable to connect."
The technology is especially beneficial for extension education. For example, Assistant Professor of Education Eric Johnson uses the technology to connect with teachers at the North Albion Collegiate Institute in Ontario, Canada.
"The idea is that we have exchanges between more students and faculty at a much cheaper price than we could through travel exchange programs," Johnson said.
"We can put 30 students in my classroom and talk with students in real time across the national boundary," he added. "Teachers can also talk with teachers about topics such as diversity and discuss challenges. This helps both institutions grow as a result of these interchanges."