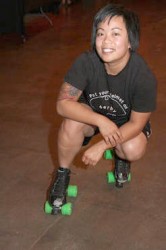 Malay Bouaphakeo, JO'05
Drake public relations majors had the opportunity to put their skills to practice while working with Drake alumna Malay Bouaphakeo, JO'05, to promote the Des Moines Derby Dames, a roller derby team that's a new addition to the Women's Derby Flat Track Association.
Team founder and owner Bouaphakeo, of Storm Lake, Iowa, volunteered the Dames as a client for Drake's publicity capstone course, which requires students to develop and pitch an authentic publicity plan as a central project.
Bouaphakeo, who earned a degree in public relations, contacted instructor Ronda Menke, associate professor of journalism, who split her capstone sections into four teams.
"I think this was a challenge for the students because my competition is a brand new league and they were basically starting from scratch. Each one of the groups definitely did their research," Bouaphakeo said.
"One of the reasons I came to Drake for public relations was because of the real-world experiences you get in the classroom," said senior Eric Gudmundson, a public relations major from Wheaton, Ill.
Each team developed a situational analysis, objectives, target audience, a key message and a plan for sponsorship. They then created a media kit, which included multiple news releases, fact sheets, a backgrounder, a brochure, fliers, a business card design and suggested ways to use social media.
"For the most part, the ideas were pretty effective and I liked a combination of all of them. I used a news release, a letter to the editor and collateral for Derby 101," she added.
"It was an exciting client for our class because only a few students had even heard of women's flat track roller derby, so we were all introduced to a new and up-and-coming sport in the process," Gudmundson said.
The sport is open to all interested participants, who may have no experience with roller derby. Currently, Bouaphakeo is helping everyone get comfortable skating and familiar with the rules before official practices start in January.
The Des Moines Derby Dames practice on Mondays and Wednesdays from 6 to 8 p.m. at Skate North in Des Moines. For more information, visit
http://twitter.com/DMDerbyDames
.