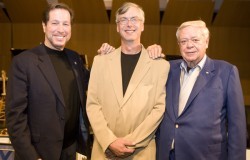 Drake President David Maxwell, Andrew Classen, director of jazz studies, and Fred Turner.
Earlier this month, the 22 students in Drake University's Jazz Ensemble I performed for an audience of 300 at a birthday party for
Fred Turner
, LA'55, honorary chairman of McDonald's Corp.
The event was held at Hamburger University, the corporation's home office, in Oak Brook, Ill.
The jazz ensemble arrived on Thursday evening and spent the night at Hamburger University's Hyatt Lodge. On Friday morning, the students explored Chicago's Millennium Park and Navy Pier before returning to the McDonald's campus for a tour of the center's art collection.
Following the art tour, the students rehearsed their program. They attended a welcoming reception before the concert and an after-party following their performance. The program, which was professionally recorded, featured a variety of jazz styles, including swing, funk, bebop and Latin compositions.
"The positive response from the audience all the way through the concert kept the band upbeat through all twelve charts," said Pam Neubauer, a senior music major and business minor and principal trombonist from Cumming, Iowa.
"It was a wonderful night because we were playing for an audience that truly appreciated our music. It was a great experience that I will never forget."
"Everyone at the party came up to congratulate us and ask if we're coming back next year!" said Kyle Glavanovits, a first-year music performance major and second tenor saxophonist from Bolingbrook, Ill.
"I thought the performance went very well. The audience was very respectful and appreciative," said Joel Poppen, director of bands at Ankeny High School.
Poppen is serving as guest director of Drake Jazz I for the fall semester while Andrew Classen, director of jazz studies, is on sabbatical.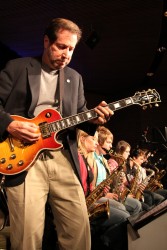 Drake President Maxwell accompanies the jazz ensemble as the group plays for Fred Turner's birthday party.

Classen, a renowned trumpeter, attended the event and performed with the band on two selections. Drake President David Maxwell also performed a guitar solo on a tune written and arranged by Classen. Both spoke briefly, thanking Turner for his generosity and dedication to Drake and the performing arts.
Turner's strong ties to Drake
In 2008, Drake celebrated Turner's $1 million gift to the University's jazz program with a concert dedicated to the Turners.
Turner's contribution provided an endowment for a professorship in jazz studies. Drake professor Andrew Classen was recognized as the inaugural holder of the Fred and Patty Turner Professorship in Jazz Studies.
"Fred Turner understands that performing and appreciating music enriches the lives of performers and listeners alike," Poppen said. "The combination of all of these elements creates his unique connection to the Drake jazz program."
Turner met his wife, the late Patty Shurtleff-Turner, when they both attended Drake in the early 1950s. She died in 2000.
"He has strong ties to this school. He has a very deep love for music because his wife was a musician and an advocate for music education and performance."
Turner had originally planned to own a McDonald's franchise, but instead became one of McDonald's Corp.'s first employees in 1956. He is a lifetime trustee of Ronald McDonald House Charities.
Turner received an honorary Doctor of Laws degree from Drake in 1983. He has served on the University's Board of Trustees and was awarded the Distinguished Service Award, Drake's top honor for alumni.