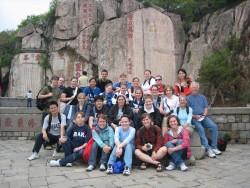 A group from last year's trip gathers for a photo.
Drake invites alumni to learn about Chinese culture and the impact of global changes on the country in a summer seminar in China.

The seminar, titled "Considering China Today: Reading Its Past and Future in the Present," is a three-week, six-credit course focusing on history, cultural practices and politics.
Those interested may enroll as auditing students for whom coursework is optional.
The trip to China is scheduled from May 24-June 11, 2010. Travel destinations include:
Beijing

Tianjin

Dunhuang Grotto and caves

Tibet

Chongqing

Wudang Mountain

Shanghai

Suzhou
Participants will have the opportunity to hear lectures from Chinese university faculty, interact with university students and visit with local Chinese families.
Drake professors also will hold pre-travel course sessions throughout spring 2010, which are required for students taking the seminar for college credit and optional for other participants auditing the course.
The sessions will feature a number of documentary films that explore the social, political, philosophical and economic history of China.