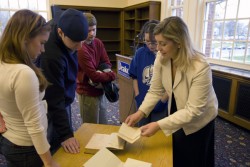 Beth Prindle displays documents along with the exhibit.
Beth Prindle, curator of the "John Adams Unbound" exhibit on display through Dec. 11 at Cowles Library, recently gave a behind-the-scenes tour of the founding father's book collection.
The exhibit spans from Adam's adolescence until his death, featuring books that he collected during his youth on a Massachusetts farm and volumes that he was reading up until his death at the age of 90.
"The books alone aren't that unique," said Claudia Frazer, associate professor of librarianship. "Most of them can be found in good scholarly libraries. What makes the books unique are the annotations that John Adams made in the margins."
"He was not a typical book collector but instead a book user, and the library reflects that fact," Prindle said.
"John Adams Unbound" is a traveling exhibit that includes photo reproductions of Adams' books and personal effects. Its goal is to give viewers an insight into the political and intellectual ideas the founding father wrestled with throughout his life.
In his will, Adams gifted 3,510 books to the people of Massachusetts. The books are housed in the Boston Public Library, where Prindle manages the John Adams Library Project. She also oversees the content and development of the John Adams Library companion
Web site
.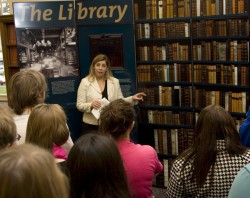 Beth Prindle discusses the exhibit with students in Jennifer Harbour's class.
Visiting Assistant Professor of History Jennifer Harbour's class attended the lecture and interacted with Prindle during the exhibit tour.
"Students yearn to understand how a dead guy wearing a powdered wig might be important in their lives," Harbour said. "What the display shows is the freedom to communicate and to write, whether with homemade ink and quill or with a Blackberry, and to leave a trail of your own history is a uniquely human experience. John and Abigail Adams did not take this freedom for granted, and we shouldn't either."
"I think that my students felt lucky that Drake was hosting such an exhibit. They liked the exhibit, but they truly enjoyed Beth Prindle and her wit, her love of all things Adams and her understanding of how history is disseminated."
Prindle guided the class through the exhibit's panels and discussed each theme:
Country
Fame
Fortune
Power
God
Fellow Men
Clients
"The students were surprised by the variety of the collection as well as how interactive the experience was," Prindle said. "You feel as if you get to know Adams on a personal level when you see his books, and I think people relate to his story. He was a farmer's son who created himself and his success through the power of books and reading."
"John Adams Unbound" is sponsored by Drake's "Citizens Arise!" series, a multi-year initiative that aims to inspire students, teachers and citizens to responsible citizenship. Its goal is to encourage all to learn about the history, development and uses of the democratic process as an instrument for managing the challenges of the 21st century.
The Boston Public Library and the American Library Association Public Programs Office organized "John Adams Unbound." The traveling exhibition was made possible by a major grant from the National Endowment for the Humanities.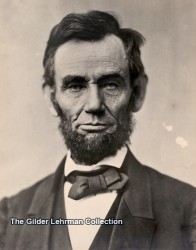 Abraham Lincoln
New traveling exhibit comes to Drake next month
Drake will continue its "Citizens Arise!" program on responsible citizenship by featuring a national traveling exhibit on Abraham Lincoln, along with lectures and special events.
"Abraham Lincoln: A Man for His Time, A Man for All Times" will be held at Drake from Jan. 11, 2010-Feb. 8, 2010, in the Cowles Library Reading Room.
Upcoming events, which are free and open to the public in the Cowles Library Reading Room, in the series include:
Jan 21, 2010

— 
7 p.m. "An Abraham Lincoln Memory
" by 
Ronald Rietveld, Lincoln expert and professor of history at California State University – Fullerton.

Feb 4, 2010

— 
7 p.m.
"The Age of Lincoln
" by 
Orville Vernon Burton, the Burroughs distinguished professor of southern history and culture at Coastal Carolina University.
"Abraham Lincoln: A Man of His Time, A Man for All Times" is a national traveling exhibition organized by the Gilder Lehrman Institute of American History, promoting the study and love of American history since 1994.