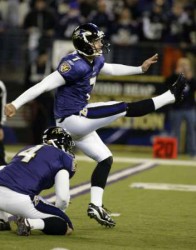 Billy Cundiff makes the game-winning kick.
After being down in the fourth quarter, Drake alumnus and Ravens kicker Billy Cundiff, kicked a 29-yard field goal with 6:42 left in overtime to solidify the Ravens' 20-17 victory over the Steelers on Nov. 29.

The Ravens, in danger of falling below .500 before several much-needed plays, took on the Steelers in a rematch of last season's AFC championship. Then, the Steelers earned a three-game sweep of the Ravens with a 24-23 win.
Read more about Cundiff and Sunday's game
online
.
Cundiff, who signed with the Ravens last month, previously played on multiple teams, including the Cleveland Browns, Dallas Cowboys, New Orleans Saints, Atlanta Falcons, Kansas City Chiefs and Detroit Lions.
The Harlan, Iowa, native closed out his career at Drake in 2001 owning 15 school and five Pioneer Football League records, including Drake career marks for points (284), field goals (49-of-79) and PATs (137-of-151).
He also ranks 14th in the NCAA Football Championship Subdivision career field goal list, connecting on 49.
Cundiff made eight field goals over 50 yards during his career at Drake, including a Pioneer Football League record 62-yard field goal as a junior in 2000 against San Diego.