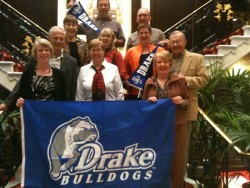 Alumni gather for a photo with a Bulldogs banner during the cruise.
Drake alumni, family and friends came together for fun and good company on a 12-day cruise through the Mediterranean and Greek Isles.
The cruise, which was sponsored by Drake through Oceana Cruise, set sail in October from Venice to Athens, traveling a total of 1,781 nautical miles.
Passengers spent one day at sea and had the remaining time for excursions in Italy, Croatia, Montenegro, Albania, Turkey and Greece.
Myrt Levin, LA'60, described her experience at Ephesus in Turkey, a favored destination.
"They are excavating the entire city and expecting that it will take them another 200 years to get it done," she said. "It gives you a good idea of how the Romans lived and it's just an amazing city."
The trip also provided opportunity for Drake alumni to connect with one another.
"We enjoyed the trip very much and of course enjoyed the company. There were several people I knew, but I never knew they went to Drake," said Levin, who holds a bachelor's degree in English from Drake.