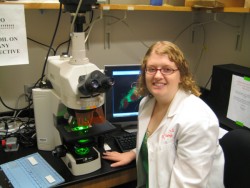 Kathryn Knoop conducts research in a lab.
Drake alumna Kathryn Knoop (Freel), AS'06, is part of a research team at the Emory University School of Medicine that recently received a $100,000 Grand Challenges Explorations grant to support innovative global health research.

The project, led by Emory professor Ifor Williams, is one of 76 grants announced by the Bill and Melinda Gates Foundation. The grant will allow Knoop and her colleagues to further test whether RANKL treatment can boost the immune response to oral and intranasal vaccines.
Knoop, who earned a degree in biochemistry, cell and molecular biology, has been credited for her discovery that RANKL, a protein, is necessary for the development of intestinal microfold (M) cells. Effective oral vaccines, such as the polio vaccination, invade the intestine through M cells, which transport particles across mucosal barriers.
"These M cells are constantly shuttling proteins from the gut, so the immune system can sense what is out there, be it food or bacteria," Knoop said. "I also found that when given in to the whole small intestine epithelium, RANKL can promote the growth of lots of M cells to develop throughout the intestines."
Knoop's findings suggest that RANKL proteins may enable more vaccines to be delivered through the mouth or nose. The discovery is featured on the cover of the November issue of
Journal of Immunology
.
To receive funding for the project, titled "Potentiating Mucosal Vaccines by RANKL Induction of M cells," the team showed how the idea falls outside current scientific paradigms and might lead to significant advances in global health. The initiative is highly competitive and received nearly 3,000 proposals in this round.
"The winners of these grants show the bold thinking we need to tackle some of the world's greatest health challenges," said Dr. Tachi Yamada, president of the Gates Foundation's Global Health Program.
"I'm excited about their ideas and look forward to seeing some of these exploratory projects turn into life-saving breakthroughs."