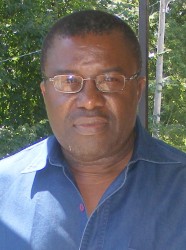 Celestine Bassey
Celestine Bassey, professor of political science at the University of Calabar in Nigeria, will give a lecture on Tuesday, Dec. 1, about the social and political conflicts threatening the stability of the Niger Delta.
His lecture, which is free and open to the public, is titled "Oil and Conflict in the Niger Delta: a Reflection on the Metaphor of State Response to Armed Militancy." It will be held from noon to 1 p.m. at the offices of the Greater Des Moines Partnership, 700 Locust St.
Bassey, who is spending the year at William Penn University on a Fulbright Fellowship, serves as senior research fellow at the Nigerian Institute of International Affairs. He has written three textbooks and is co-editor of a collection of essays titled, "Conflict Resolution, Identity Crisis and Development in Africa."
Bassey holds a bachelor's degree in politics from Lancaster University in the United Kingdom. He received his master's degree and doctorate in international relations and strategic studies from Dalhousie University in Halifax, Canada.
He has given presentations at more than 70 conferences and seminars and will speak this November at the 2009 International Conference on the Niger Delta Crisis.
This lecture is sponsored by Drake University's Center for Global Citizenship, William Penn University, Iowa Council for International Understanding and Pioneer Hi-Bred International Inc., a DuPont business.