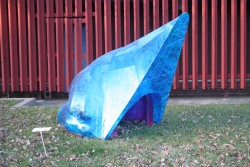 Sculpture by Ainsley Buhl
Sculptures created by two Drake University art majors are displayed outside of Drake's Studio Arts Hall on Forest Avenue.
The sculptures were created in response to an assignment in a Sculpture II class by Ainsley Buhl, a junior painting major from Virginia Beach, Va., and Sandi Tomer, a part-time student from Ames, Iowa pursuing a BFA in sculpture.
"Ainsley and Sandi created ambitious works of art," said Professor of Art and Design Robert Craig, who teaches the class and assigned the project.
The assignment was to make an armature, or skeleton, and cover it with some sort of non-traditional sheathing material, or skin. The students were challenged to emphasize not only the outside of the sculptures, but to also acknowledge the interior parts, which are usually not visible.
Both armatures were constructed and welded out of pencil rod. They were installed in late September.
The sculptures will be displayed outdoors until Thursday, Nov. 12.
"We both decided that an outdoor display was best for our projects," Buhl said.
"I decided that I wanted my audience to interact with the interior space, so I hollowed out the inside. That way, people can actually crawl into the structure."
Buhl said that she wanted to create a place where viewers could "tell secrets and feel safe."
"Some say that it looks like a bird's head coming out of the ground, some say an igloo, some say a doghouse. All interpretations are accepted."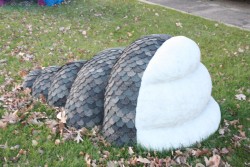 Sculpture by Sandi Tomer
Tomer's sculpture was made out of building materials, including asphalt shingles and concrete. She describes the piece as large enough to suggest a building, but with a primary form that resembles an organic creature.
"For my piece, I decided that the abstraction I would use would combine architecture and biology," Tomer said. "I wanted to have reference to both a creature of some type and a building of some type."
"I also decided to activate the interior space by making a form that bulged out. I wanted it to refer to the feeling of being pressurized from the inside."