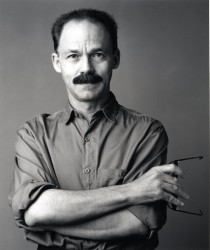 Gaylord Torrence
Gaylord Torrence, professor emeritus of art at Drake University, has used his vision, passion and expertise to develop a new permanent display of American Indian art at the Nelson-Atkins Museum of Art in Kansas City, Mo. The exhibit opened today — Wednesday, Nov. 11.
Torrence, who joined the Drake faculty in 1969, retired in 2002 to become the museum's founding curator of the Department of American Indian Art.
In his current role as senior curator of American Indian art, he has expanded the museum's display to cover 6,100 square feet in three galleries. The display ranks among the largest exhibits devoted to American Indian art worldwide.
"It is our goal in this new installation to present the extraordinary vision of Native American artists, from many cultures and throughout time," Torrence said.
"These objects communicate the creative expression of their individual makers; at the same time, they reflect the profound cultural traditions that underlie the meaning and power embodied within each work."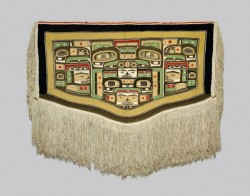 Chilkat Robe, Tlingit, Southeast Alaska, ca. 1880-1900
Featuring 205 objects, the artwork represents most major North American Indian groups and dates from pre-European contact to the present. Pieces include:

Navajo textiles
Woodlands and Plains quillwork, beadwork and sculpture
Pueblo pottery
Southwestern jewelry
Northwest Coast sculpture
California and Plateau basketry
While the museum has exhibited American Indian art since its inception in 1933, Torrence has built on its foundations and with the new exhibit, effectively quadrupled the amount of space previously devoted to American Indian art. He has brought in works from private collections, dealers and Native artists.
"The Nelson-Atkins has benefited greatly from Gaylord's vision, passion and expertise," said Morton Sosland, a Kansas City businessman and benefactor to the museum. "He has focused the museum's original collection and dramatically expanded the number of key historical and contemporary works."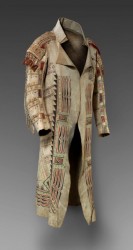 Rare Buffalo Coat, Ojibwa, Ontario, Canada, ca. 1789.
Torrence also is author of the critically acclaimed "The American
Indian Parfleche: A Tradition of Abstract Painting," a definitive work
in the field. He also co-authored "Art of the Red Earth People: The
Mesquakie of Iowa" and served as a principal consultant and
contributing author to "Arts of Diplomacy: Lewis and Clark's Indian
Collection," a 2003 publication organized by the Peabody Museum at
Harvard University.
While at Drake, Torrence taught drawing and Native American art
history to both undergraduate and graduate students, organizing
American Indian coursework at a time when few colleges offered such a
topic in the curriculum.
In 1994, he curated an exhibition titled "The American Indian Parfleche: A Tradition of Abstract Painting" at the Des Moines Art Center. The landmark exhibit featured 87 painted rawhide containers, representing one of the great traditions of American Indian art.
He has been a visiting artist and lecturer at
the Kansas City Art Institute, Indiana University and Parsons School of
Design in New York.
Torrence holds a bachelor's degree in art education and painting
from Eastern Illinois University and an M.F.A. in drawing and painting
from Michigan State University. As a working artist early in his
career, Torrence had his drawings and paintings exhibited nationally in
galleries, universities and museums.
The Nelson-Atkins is recognized nationally and internationally as one of America's finest art museums. Admission is free.