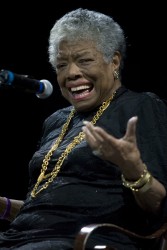 Dr. Maya Angelou
Dr. Maya Angelou, legendary writer, educator and performer, delivered Drake's 24th Martin Bucksbaum Distinguished Lecture last month, an appearance President David Maxwell declared one of the "defining moments of this University."
Angelou's lecture drew the largest crowd in the history of the Bucksbaum Lecture Series, as she held the audience of nearly 8,000 in rapt attention with stories from her remarkable life, poetry and even a bit of singing.
Frequently interrupted by applause and laughter, her talk was inspiring, moving and humorous. A
full recap
and
photo gallery
are available online.
Angelou, author of the critically lauded memoir "I Know Why the Caged Bird Sings," spoke on a theme of "rainbows in the clouds," a concept found in the Book of Genesis. The phrase is interpreted to mean "that in the worst of times there's the possibility of seeing hope," Angelou explained.
"I know Drake is a rainbow in the clouds," said Angelou, who holds more than 60 honorary degrees.
"I know there are people who have entered this institution of higher education who represent families that have never gone to a high school — people who will leave this place with an assurance of a formal education and who represent for the first time to their families that they can do this."
Prior to the lecture, she met with a group of 25 Drake English and writing majors.
"Being able to be a part of a small group discussion with Dr. Maya Angelou was an honor and a once-in-a-lifetime-opportunity. Her humor and genuine warmth immediately put me at ease," said Brittney Miller, a junior English and political science double major of Duluth, Minn.
"For those young people, this evening defined their Drake experience," Maxwell said. "As they look back at their four years at Drake, this is what they will remember."