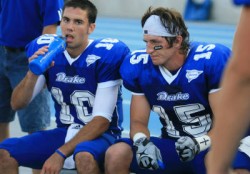 Quarterback Michael Piatkowski (left) passed for three touchdowns against Jacksonville, including an eight-yard scoring strike to Spencer Cady (right) in the third quarter.
DES MOINES, IOWA — Redshirt freshman Peter Badovinac (Inverness, Ill.) came off the bench to engineer two fourth-quarter touchdowns as Drake rallied from a 28-10 deficit to post a 45-38 Pioneer Football League victory past defending conference champion Jacksonville last Saturday.
Drake earned its fifth straight victory while improving to 7-1 overall. The Bulldogs also maintained a share of first place in the league standings with Dayton and Butler.
It also marked Drake's sixth straight league win dating back to last year.
Jacksonville, which had a two-game winning streak snapped, fell to 4-4 including a 3-2 league mark.
"Our team gutted out a warrior performance today," said Drake coach Chris Creighton, whose team opened a three-game homestand. "So many people stepped up for us.
"We learned something about believing before something happens. Our guys were exhausted, but battled and fought all the way to the end and held together in the fourth quarter."
Read the entire
story
online.