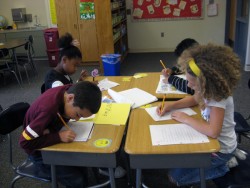 Students in Jennifer Huegel's fourth grade class compose letters to Drake students.
Students in Drake Professor of Education Sally Beisser's teacher education class are exchanging letters with Des Moines-area fourth graders taught by alumna Jennifer Huegel, GR'05.
Beisser's students were each paired with a Greenwood Elementary fourth grader at the start of the fall semester. Through written letters, the partners get to know each other and will eventually meet in person this December.
During the visit, the Drake students will participate in a literary-based activity with their partners and observe Greenwood classrooms.
Beisser said that the letter-writing partnership with Huegel developed nine years ago as part of her Curriculum and Pedagogy class. The collaboration was designed to instruct elementary educators in classroom management tactics and to encourage Huegel's fourth graders to learn letter-writing skills.
"Knowing more about individual students and the way their writing progresses throughout the semester is key for my college students," Beisser said.
Writing the letters requires the college students to ask interesting questions, practice good handwriting, respond to the fourth grader's inquiries and learn about the needs and interests of a child.
Leah Innis, a graduate student from Des Moines, said: "I feel like I know my pen pal, even though I have not met him yet. I understand the things that are motivating for him and I think it is beneficial for him to talk about himself; this increases self-esteem."
"In a time where anything can be accessed immediately, it's so nice to take a step back, slow down and think about what you're going to say and how you're going to say it," said Willie Montgomery, a junior elementary education major from Des Moines.
The letters travel in an envelope back and forth from Drake to Greenwood via hand-delivery provided by one of Beisser's students.
"When that envelope shows up in class, we just drop everything and read those letters," Huegel said. "I have never seen students more motivated to write than when they see that envelope arrive."
The fourth graders learn how to format a letter and how to revise their work. They also learn about the importance of corresponding regularly and the power of written communication.
Huegel said that her students enjoy the program because they meet someone new, get to know them and ask about college life at Drake. Her students look up to their pen pals and are looking forward to meeting them.
"We will definitely be continuing this program in years to come," Huegel said.
"The children learn about the importance of a college education and the power of an engaging relationship in the process of learning new skills," Beisser said. "Drake students are well received in metro-area schools and we hope to see these elementary students at Drake someday!"