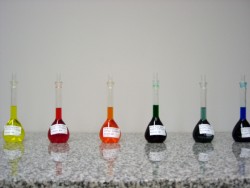 Vials of dye from one of the research projects funded by Grow Iowa Values Fund.
Four Drake pharmacy students are collaborating with Drake faculty members and pharmacists to hone entrepreneurial skills and develop new pharmaceutical products.
"The goal of the initiative is to bring students, practitioners and research faculty — all with different perspectives — together to develop the practices, skills and attitudes necessary for successful development of innovative pharmaceutical practices and products," said Bob Soltis, professor of pharmacology.
The research project, which is broken down into four student projects, is made possible by a $71,207 grant from the Grow Iowa Values Fund.
Students and research partners are working on research that focuses on compounding — the process of combining, mixing and altering of ingredients to customize medication for patients or animals.
"Pharmaceutical compounding is a growing component within the practice of pharmacy," Soltis said.
According to the Pharmacy and Compounding Accreditation Board, 20 million to 30 million prescriptions are compounded each year in the United States alone.
The student projects, which will continue into the spring semester, include:
The development of an injectable solution to treat horses after abdominal surgery
The design and planning of a veterinary compounding laboratory
Testing uniformity and stability of drug capsules
The use of food dye to confirm uniformity of drugs in mixed or compounded capsules
Four students began working on the projects this summer for about 20 hours a week, and will continue to work and analyze data a few days a week this semester. They will present their final reports in February, 2010.
Lindsay Dunhan of Carthage, Ill., and Travis Gau are working with Nita Pandit, professor of pharmaceutics, and Stephen D. Martin, chief staff pharmacist at Iowa State University's Dr. W. Eugene and Linda Lloyd Veterinary Medical Center.
"This project couldn't be a better fit for me, seeing as how my goals and aspirations upon graduating are to work, myself, as a veterinary pharmacist," said Gau, a resident of Robbinsdale, Minn.
"The project provides a great opportunity to integrate science, business and entrepreneurship with compounding, and to work on something that will have immediate applicability and value."
Jason Salton of Ayrshire, Iowa, and Brittany Hoffmann of Frankfort, Ill., are partnered with Deepa Rao, Drake assistant professor of pharmaceutics, and Christie Carlson, staff pharmacist at Central Iowa Compounding in Urbandale, Iowa.
"I have really enjoyed working with both a practicing pharmacist and my faculty adviser," Hoffman said.
"When it comes to research, there can be roadblocks and it is helpful to have different points of view of how to overcome them and keep pushing through to obtain results. I am very grateful for the opportunity."