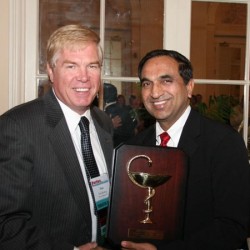 The award was presented to Tom Rickey, left, by 2008 Bowl of Hygeia recipient Om Dhingra, right.
Tom Rickey, PH'68, GR'71, a 2006 Drake Alumni Achievement Award winner, recently received Wyeth Pharmaceutical's Bowl of Hygeia award from the Illinois Pharmacists Association.
The award was presented during the annual Illinois Pharmacists Conference in Peoria, Ill.
The Bowl of Hygeia award recognizes good service and encourages pharmacists to excel beyond standard job duties by offering excellent service to their communities. The award is presented to one individual from each of the 50 states, 10 provinces of Canada and districts of Columbia and Puerto Rico at the conclusion of each association's annual meeting.
"It was a real honor. One of the most thrilling parts of the event was when four past-recipients of the award were recognized," said Rickey. "Three of them were Drake alumni."
As part of his Drake education, Rickey said he learned about ethical and honest conduct from his Drake professors. The examples they set helped to inspire his dedication to service within his hometown, Peoria, and beyond.
"I have to thank Dean Benton and Dr. Granberg," Rickey said. "They set great examples."
Byrl Benton served as Dean of Drake's College of Pharmacy and Health Sciences from 1949 to 1977. C. Boyd Granberg succeeded Benton as dean until 1984.
Rickey is pharmacist in charge of compounding at Alwan Pharmacy in Peoria and past president of the Central Illinois Pharmacy Association. He continues to serve on its board as scholarship chairman.
He is also a longtime board member of the Haiti Mission Connection and serves as vice president. Each year, he travels to Haiti to set up a 10-day clinic that serves, on average, 400 patients a day. The medical mission also maintains a clean-water program.
In 2005, Rickey received the Innovative Pharmacy Practice Award from the National Alliance of State Pharmacy Associations. He works for Peoria's St. Vincent De Paul Service Committee and is a member of the Peoria North Club chapter of Rotary International.