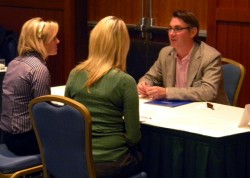 Alumni discuss their experiences with Drake students.
Nearly 85 alumni and 100 students in the College of Business and Public Administration recently participated in alumni-student networking events at Marriott Hotels in Minneapolis and Chicago.
The goal of these inaugural events was to connect students with alumni who are business professionals willing to share meaningful advice about real-world experience that students can look forward to in their careers.
Alumni of all ages and experiences gathered to talk with students in relaxed one-on-one discussions.
"The event was modeled after 'speed dating,'" said Ashley Nichols, assistant director of alumni and parent relations.
Students rotated around the room to speak with about 10 different alumni for about 7 minutes each. During the last portion of the event, alumni and students networked freely.
Many alumni expressed positive feedback in a survey with comments, including:
"This is one of the best networking/recruiting events."
"I was very impressed with the students."
"I was happy to see all the students and alumni. It made the event legitimate."
"I thought this was great! I would have loved to do something like this as a student."
"All majors could benefit from attending."