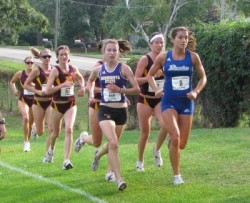 PEORIA, ILL. — Drake junior Casey McDermott (Newton, Iowa) earned All-Missouri Valley Conference honors after finishing ninth in the State Farm MVC Championship last month.
McDermott covered the 5,000-meter race held at the Newman Golf Course, in 19 minutes 14 seconds.
The Bulldogs placed eighth overall with 187 points. Wichita State won the meet with 43 points.
"Casey (McDermott) ran a tough race to earn all conference honors," said Drake cross country coach Dan Hostager. "It was an outstanding field but the course was full of mud.
"So any mistake or let up would have meant a lot of places. The course conditions cost us one of our top runners early in the race but I was extremely proud of the efforts our ladies put in."
Read entire
story
online.