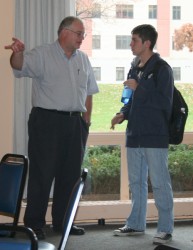 Professor Paul Judd leads a question-and-answer session with the high school students.
Drake University is home to one of the top actuarial science programs in the country, but many prospective students, especially those from Iowa, are not aware of the opportunities offered in their own backyards.
That's why Rahul Parsa, professor of actuarial science, recently launched a new initiative to attract more Des Moines-area students to Drake's actuarial science program. The field uses mathematics to assess risk in the insurance and financial industries.
Last month, more than 100 students visited Drake as part of Central Academy Actuarial Science Career Day. The program brings students from The Academy at Central Campus, to campus to learn about the actuarial science program through meetings with Drake students and faculty.
"Many Academy at Central Campus students who excel at math are trying to get into Ivy League schools," said Parsa, who has been working with other advisers. "What they don't realize is: Drake is one of the top actuarial science schools in the country."
The inaugural program on Friday, Oct. 23 featured a presentation over Drake's actuarial science program and allowed visiting students to meet with Drake actuarial science majors over lunch.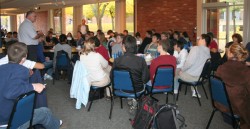 A high school student asks Paul Judd a few questions about Drake's program.
"The program went very well, for it being the first time we ever did it," said Parsa.
The presentation included introductions by Randall Blum, assistant dean of the College of Business and Public Administration, who offered tips on searching for a college. He advised students to choose a program that will allow them to start taking business courses and connect them to internships in their first year of school.
Within the heart of Des Moines, the second largest insurance center in the nation, Drake's program opens many doors to internship opportunities for actuarial science students.
"The point we were trying to get across is that Drake has a great program and it is right here in Des Moines," said Parsa.
Students also participated in a question-and-answer session with Paul Judd, Drake assistant professor of practice in statistics. Students asked questions on topics including:
the difficulty of professional actuary exams
the specific types of math involved
the decision to study actuarial science
"Students were asking really good questions," said Brian Reece, who teaches math at the Academy at Central Campus. "The way I see it, even if two or three become interested in learning more about the program, the day was successful."
Judd also invited students to return to campus individually to meet with Drake professors, who can discuss the actuarial science program further with respect to students' individual concerns and interests.
Parsa has plans to continue the program for Academy at Central Campus students. He also is organizing Drake student visits to Des Moines Area Community College to meet with potential transfer students.
"Often, students who excel at math aren't sure what they can do with that skill," Parsa said. "They are unaware that there are alternatives to the more common fields for math, such as engineering, but actuarial science is a constantly evolving field, which gives it a lot of appeal."