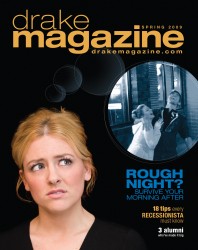 Cover of the award-winning spring 2009 issue of Drake Magazine.
In addition, Drake graduate Brittainey Sieren placed third in the magazine spread design category, and current student Danny Akright received honorable mention in the feature photography category.
Winners
were announced at the 88th ACP and Annual College Media Association's National Convention in Austin, Texas, on Saturday, Oct. 31.
"The Pacemaker Award is the most prestigious award in student publishing," said Lori Blachford, the Peggy Fisher and Larry Stelter chair of magazine journalism at Drake. "We are competing against schools all across the nation, so to receive recognition as outstanding magazine of the year from that organization is a real honor."
"This is a national award that puts the Drake student magazine at the top of the pack for student publications," said Kathleen Richardson, director of the School of Journalism and Mass Communication. "Almost all of the other finalists were from bigger schools."
The staff of San Francisco's Wired magazine judged the publications in the magazine excellence category on:
Art, photography, and graphics

Content

Layout and design

Overall concept or theme

Quality of writing and editing
"The students who work on Drake Magazine gain real-life experience in magazine production," Blachford said. "They start each semester with a collection of blank pages and make all the decisions required to arrive at the end of the semester with a magazine that represents their best work."
Tara Richards, a senior magazine major from Indianola, Iowa, served as the publication's 2008-09 editor in chief.
"I loved working for Drake Magazine," Richards said. "The whole staff was extremely dedicated to the project and we gave our all to make sure the publication was the best it could be."
When asked about her future career, Richards said, "I would love to work as an editor for a magazine or Web site. The experiences I've had at Drake have been invaluable in preparing me for the real world of journalism."